Scottish political parties ramp up their election campaigning after English by-election results
What next for Labour, the Conservatives and the SNP?
As the dust settles on last week's English by-elections, politicians in Scotland are ramping up their election campaigning.
The Lib Dems overturned a Conservative majority of 19,000 in Somerton and Frome and Labour overturned a 20,137 majority in Selby and Ainsty. But in a setback for Labour, the Conservatives held on to Uxbridge and South Ruislip by just 495 votes, despite a 6.7 per cent swing to Labour.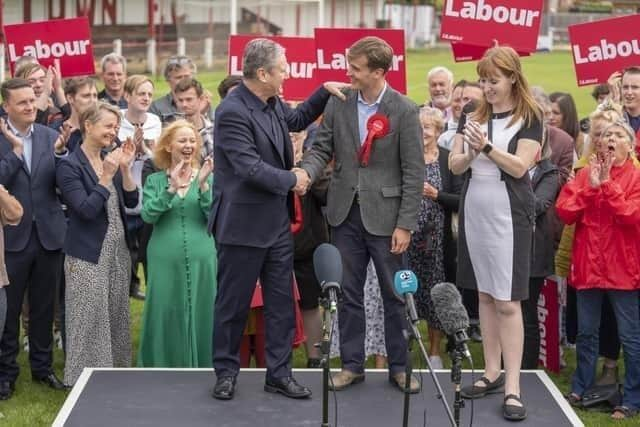 In Scotland, politicians are now using the results to try and persuade the public to vote for them in next year's general election.
Speaking on the BBC's The Sunday Show, Labour MSP Michael Marra said voting for his party is the best way for Scotland's voice to be heard at Westminster.
"The scale of the win in Selby is unprecedented in recent years, harking back to the mid-1990s where there was a real ground swell and a desire for change across Britain.
"That's what these results show - people are looking for the most effective way of getting rid of the Tory government."
Mr Marra said: "Vote for Labour in Scotland to deliver a Labour government across the whole of the UK that can transform people's lives."
On the other hand Craig Hoy MSP, chairman of the Scottish Conservatives, admitted the results were "disappointing" for his party.
He said: "All three by-elections were going to be challenging for different reasons, but we managed to retain Uxbridge, despite what most commentators and politicians thought would happen.
"But looking at the results, particularly in Selby, many Conservative voters stayed at home - they didn't jump to Labour because there is no great enthusiasm for that."
He added there is a "very different political reality" in Scotland, and added: "If you vote for Labour or the Lib Dems rather than voting for the Conservatives, you will end up with an SNP MP who will take your vote to Westminster and claim it is a vote for an independence referendum."
Meanwhile SNP MP Richard Thomson said his party is best placed to deal with Scotland's unique challenges.
He said: "The message to the people in Scotland is people don't trust the Tories, and by failing to win Uxbridge it shows people don't trust the pro-Brexit Labour Party to deliver the change they need.
"Of course, the situation is different in Scotland.
"If you want to remove the six Conservative MPs the only vote to cast is for the SNP.
"That is the only way to get to grips with the cost-of-living crisis and make sure we have a strong voice, rather than more lobby fodder for Keir Starmer.
"The Uxbridge results cast doubt that the deal is sealed, and the only way to make your voice properly heard is to vote SNP."
Comments
 0 comments
Want to join the conversation? Please or to comment on this article.