The leadership contender, speaking to reporters in Arbroath on Friday, said serving ministers running to become the next first minister needed to have "space" to bring forward their policy agenda.
Asked whether Ms Forbes's decision to speak out against the gender reforms passed in December during the leadership contest meant she should resign, Mr Yousaf said a resignation was not "necessary".
Ms Forbes was part of the Cabinet that approved the Gender Recognition Reform Bill in January last year, raising no objection around the Cabinet table at the time. The finance secretary has established much of her support among MSPs from those who rebelled and voted against the Bill, and said she would have done so herself.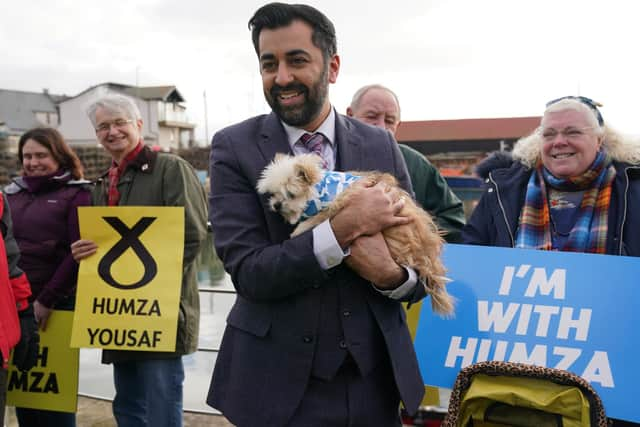 In normal times, this would have been a breach of collective responsibility and she would have been expected to resign.
Mr Yousaf, who confirmed he remembered when Cabinet approved the Bill, did not dispute the account that Ms Forbes was there, but instead said Cabinet discussions were "confidential".
He said there was an expectation candidates for SNP leader would be given "leeway … in terms of policy positions". "You've got accept that people are able to put forward differences in terms of policy positions," he said.
Asked whether Ms Forbes should have resigned her position as finance secretary – a role she continues to hold while on maternity leave – Mr Yousaf said this was not necessary.
He said: "We are in the midst of a leadership contest and people have to state their opinions on a whole variety of matters. I don't think it is necessary for Kate to resign her position as finance secretary. She's in a leadership contest, she's giving her views on a whole range of issues."
Asked whether this meant collective responsibility among Cabinet ministers is effectively on hiatus, Mr Yousaf said that was "an interpretation".
He said: "For me, it is right that we give candidates the space to be able to speak about what policies they want to bring forward, if there's a slight change in direction for example if they want to take the party on."
Pressed on whether he would have Ms Forbes in his Government should he win the leadership contest despite her speaking out against government policy, Mr Yousaf said he would seek out the "best talent".
He said: "For me Kate is exceptionally capable and very talented. If I was the first minister of Scotland … then I would want the best talent in the Cabinet.
"What I would say to them all is this is what my agenda is. This is a progressive agenda, a socially just Scotland I want to build, and we've got to make sure that everybody is signed up to that and collective responsibility is an integral part of any government function."
Speaking to reporters at a campaign event in Glasgow on Thursday, Ms Forbes was asked whether she would have been obliged to resign and responded: "Were you in Cabinet?"
Asked if the account was false, Ms Forbes said: "I am asking if you have access … Cabinet a confidential space for discussion and so the conversations that we have in Cabinet are confidential.
"I think that the approach that I have taken to GRR is pretty consistent over the last few years and there is probably more comments attributed to me in the public domain when it comes to GRR than many others."
Want to hear more from The Scotsman's politics team? Check out the latest episode of our political podcast, The Steamie.