She quit the Scottish Government in protest over gender reforms, called for SNP chief executive – and Nicola Sturgeon's husband – Peter Murrell to stand down, and pledged to delay the controversial deposit return scheme (DRS).
She has also been critical of the Government's power-sharing agreement with the Scottish Greens, with reports suggesting the party could quit the government if the Edinburgh Eastern MSP gets the top job.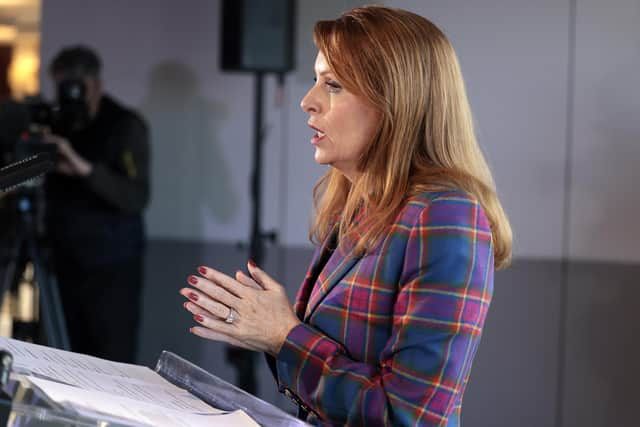 Speaking to the BBC on Monday, she pledged her commitment to the SNP. "I am totally committed to remaining in the SNP," she said.
Pressed on her call for Mr Murrell to stand down as chief executive of the party, the candidate said: "I think that's an issue of transparency. We have to make sure we've got a transparent party that the members can have trust in and – wider than that – that the country can have trust in."
The candidate also took another swipe at her former ministerial colleagues over the ongoing teacher strikes, saying – based on "some information on the internet" – "some people feel that the Government isn't listening carefully to what they're saying".
Meanwhile, health secretary Humza Yousaf, who is also vying for the leadership alongside Ms Regan and finance secretary Kate Forbes, secured two high-profile endorsements over the weekend.
Westminster deputy leader Mhairi Black, alongside former Westminster leader Ian Blackford, announced their support for Mr Yousaf. On Friday, Ms Black hit out at Ms Forbes's comments about gay marriage, which she claimed she would not have voted for, saying the finance secretary had "alienated swathes of the population before she's even started".
Ms Black said in a statement the health secretary was the "only candidate willing to take the fight directly to Westminster".
Mr Blackford said the SNP needed a figure who could "unite both the SNP and the Yes movement", declaring: "It has to be Humza."
Ms Forbes also announced her intention to pause the DRS, telling the Mail on Sunday there had been a "wave of concern" from businesses.
The only candidate to be on the campaign trail on Monday, Ms Forbes will visit a brewery in her Skye, Lochaber and Badenoch constituency to discuss the scheme.
Voting for the next leader opens on March 13, with the winner announced on March 27.