It is a depressingly common tune sung by those on the nationalist benches, one that fundamentally believes all journalists – be they print (which, yes, skews unionist and right wing by sheer proportion) and broadcast – are out to get them.
This is lapped up by swathes of the SNP membership and contributes to the belief within the party that it is beyond reproach and anyone criticising it must have an ulterior motive.
The problem for Humza Yousaf, Kate Forbes, and Ash Regan, is that each of them has a fatal flaw that ultimately could cost them the chance of becoming the next SNP leader.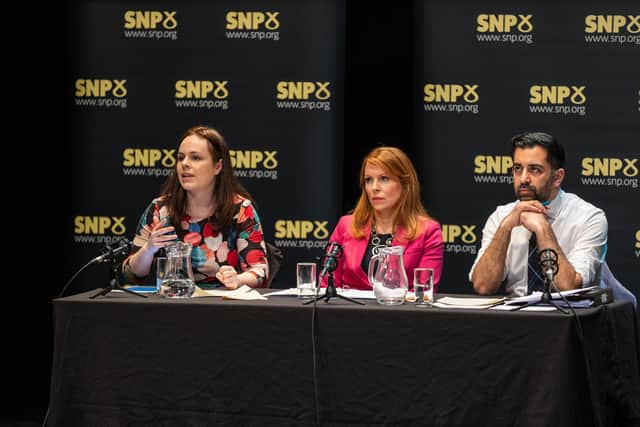 It is simply easier to blame the media for highlighting these flaws than answer serious questions.
Take Mr Yousaf who, as health secretary, has overseen some of the worst performance figures in history, whose record in government is questionable at best, a series of calamitous controversies at worst. His honesty has also come under scrutiny.
At the first hustings in Cumbernauld last week, it was he who took the opportunity to welcome and extol the greatness of the first of the questions which accused the media of spreading "misinformation, lies, and antipathy" about the SNP the most, mentioning it multiple times during the evening.
Such a response is a helpful smokescreen for his record, it's just the media being the media after all.
Kate Forbes has a different problem. Her views of social issues, most notably equal marriage and her opposition to it, are anathema to the direction of travel of the SNP in the last decade.
How can voters and members be expected to believe the finance secretary will uphold, in her words, the "inherent dignity" in every human being when she doesn't believe gay people should get married?
Ah, no worries. It's the media's fault for returning to that question, she told the BBC. Her own position is comprehensive (it isn't) and has been established on all issues of substance (it hasn't).
Ash Regan, as the outsider, is a fundamentally unserious candidate. Her policies of a 'readiness thermometer' on independence or a amorphous 'voter empowerment mechanism' underline that fact, as does her reliance on policies stolen from rival party, Alba.
For her, media scrutiny of this falls into the same boat. They're just pro-union, their questions are irrelevant. We can get independence by sheer force of will.
These attacks on the media are easy and they play well with the base of support.
But they also are an attempt to mask these fatal flaws, flaws on which voters will be the ultimate judge.
Want to hear more from The Scotsman's politics team? Check out the latest episode of our political podcast, The Steamie.