Ms Forbes, who took a break from campaigning on Wednesday, is set to relaunch her campaign on Thursday. She will attempt a reset by focusing on independence and moving away from the equality issues which have dogged her early operation.
That follows an intervention by Deputy First Minister John Swinney, who said criticism of her views had nothing to do with her faith, as he questioned whether it would be appropriate for someone with her views to be first minister.Ms Forbes, who reportedly was being urged to quit on Tuesday evening by close advisers, was also vociferously defended by parliamentary supporters, who labelled attacks on her views as "appalling".
Her campaign was also forced to deny she could be replaced by her "de-facto" campaign manager, Ivan McKee, by the end of the week.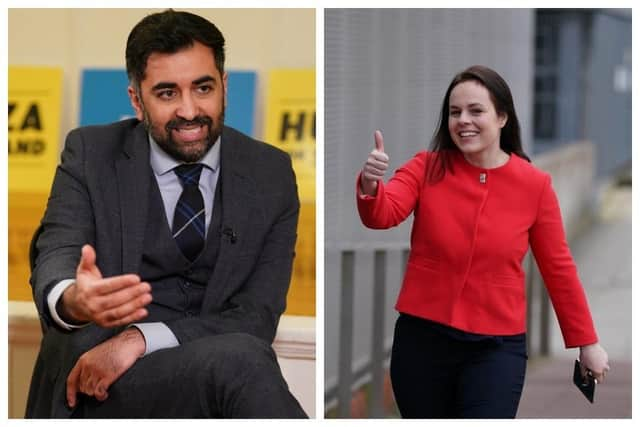 The trade minister told STV on Wednesday that Ms Forbes was set to address "the hurt that has been caused by comments that have been made to many members of society".
A source close to Ms Forbes denied she was set to quit, saying "she is 100 per cent still in the game". Sources close to the campaign also remain bullish about her chances of success.
Mr Yousaf, her closest rival and favourite, has picked up further key endorsements from ministers and Cabinet secretaries as he solidifies his place at the front of the race.
Ash Regan, the former community safety minister and gender rebel, is set to formally launch her campaign on Friday morning – the day nominations close. She called for an end of what she termed "mudslinging" in the contest, echoing an early demand from her sole parliamentary supporter, firebrand MP Joanna Cherry.
This was echoed by Jim Fairlie, one of Ms Forbes's remaining parliamentary backers, who took to social media to defend his decision not to withdraw support despite the fact he "fundamentally disagree[d]" with her on equal marriage.
Labelling some rhetoric around the candidate's views as "appalling", he also accused opponents of trying to "cancel her". He said: "I don't think her beliefs are in any way a danger to the LGBTQ community. If they were, I would not only withdraw my support for her I would condemn her lack of tolerance.
"She has been totally honest in her beliefs despite how difficult it was making her campaign, while at the same time, defending the rights of others who are also trying to, in modern parlance, cancel her."
He added: "Some of the responses on my threads have been nothing short of abusive, where folk are demanding I uphold the virtue of tolerance, while being completely intolerant of Kate's right to religious belief.
Christine Grahame, another SNP MSP, said she believed the backlash had become "a bit of a witch hunt". "I'm an atheist, I'm left-wing, I support GRR [gender recognition reform] and I support equal marriage, but I defend her right to have a conscience," she said.
"As long as you are not imposing these on other people, and she is not, she has said she would not do that. What is concerning me is that it is a bit of a witch hunt."
Michelle Thomson, another of Ms Forbes's supporters, said she "noted" Mr Fairlie's comments, and said she too "disagree[s] with many of her views – but I will absolutely defend her right to hold them".
She added: "It's time this debate moved on to matters of substance. I see this fundamentally about the economy and the future for Scotland – and the undoubted knowledge and talent Kate Forbes displays in this area is what the debate must now be about".
Both Mr Fairlie and Ms Thomson voted against the Gender Recognition Reform Bill brought to Parliament by Nicola Sturgeon and passed on a cross-party basis. Ms Forbes intends to not challenge the decision by the UK Government to block the Bill, effectively killing it.
However, Mr Swinney told the BBC on Wednesday morning he "profoundly" disagreed with the religious stance taken by the SNP leadership contender, despite being "a man of deep Christian faith".
Mr Swinney said while there had been a "huge amount of interest and debate" about her comments, it was "unhelpful" that much of the contest so far has focused on this issue. But he said it was now for SNP members to decide if someone with those views would be an "appropriate individual" to be Scotland's next first minister.
The Deputy First Minister said Ms Forbes "is perfectly entitled to express her views", but party members are "equally entitled to decide if someone who holds those views will be an appropriate individual to be SNP leader and first minister".
He said: "If Kate wants to set out those views, with which I profoundly disagree despite being a man of deep faith, then the party membership will make their judgment about those views and whether they think those views are appropriate for someone to hold if they are leader of the SNP and first minister."
In response, BBC's Reporting Scotland quoted a statement from Ms Forbes's campaign that said: "The Prime Minister is a Hindu, the mayor of London is a Muslim, so many will wonder why the Deputy First Minister believes a woman holding Christian views should be disqualified from holding high office in Scotland."
Nicola Sturgeon, speaking to the BBC, added: "Scotland is a socially progressive country and I believe that is majority opinion. Whoever is first minister, the views that they have on all sorts of issues matter because people look to their first minister to see someone who will stand up for them and their rights, and the job of first minister on a daily basis involves responding to things based your positions your values, your outlooks."
The comments come as Mr Yousaf continued to rack up key endorsements, with transport minister Jenny Gilruth and education secretary Shirley-Anne Somerville throwing their weight behind him on Wednesday.
He told Times Radio he believed winning the contest would be a "really important seminal moment for the country" if he is elected as Scotland's next first minister. He would be the first Muslim and the first minority ethnic politician in the top job if he is elected to succeed Ms Sturgeon following her shock resignation.
"I think it could be a really important seminal moment for the country potentially, a real demonstration of how far we have come as a country," he said.
"The fact that I am even in the running, somebody who is the grandson of an immigrant who came in the 1960s to this country is even in the running, in contention for the top job in Scotland, I think speaks volumes.
"The fact that by and large questions aren't about my race, but they are about our policies is something to be celebrated."
He was pressed on his decision to run for the "incredibly tough job" – with Ms Sturgeon having commented on the "brutal" nature of the position when she announced she was stepping down last week.
Asked why anyone would want the job, Mr Yousaf said: "My mum did ask me the same question, virtually."
Regarded as the continuity candidate by some after more than ten years in the Scottish Government, he insisted he had the experience to take on the top position.
Want to hear more from The Scotsman's politics team? Check out the latest episode of our political podcast, The Steamie.