His denial came after Alex Neil, the former health secretary and the minister in charge of the Bill when it was going through Parliament, accused Mr Yousaf of arranging a ministerial meeting to take place "to give Humza cover for not being there".
The health secretary flatly rejected the allegations, questioning why Mr Neil, who supports Kate Forbes in the contest, had intervened.
Speaking to Times Radio on Friday, the veteran SNP figure said Mr Yousaf was under pressure "from the mosque" at the time of the vote and had a conversation with Alex Salmond, the-then first minister, to agree to him missing the vote.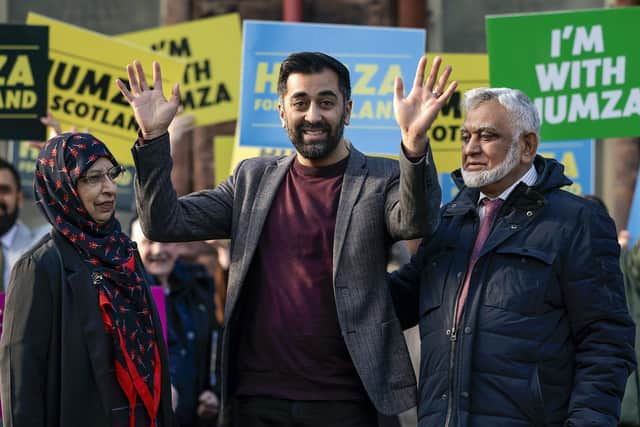 Mr Neil said: "But the key point is, Kate, on the one hand has been brutally honest to her own cost, brutally honest about what her honest opinion is. Humza I don't think has been so upfront.
"He should just be honest, that he skipped a vote and the reasons why he skipped the vote, because I think what people want in this campaign is openness and transparency and honesty.
"When I was asked the question, is it true that he skipped the vote, I've given the correct answer, the true answer – he did skip the vote."
The meeting in question was with the Pakistan consulate about a man on death row at the time, Mohammad Ashgar, and was arranged by Mr Yousaf's office three days after the stage three vote for equal marriage was set.
The health secretary denied this was deliberate, stating it was an "unavoidable meeting" and accused opponents of trying to "destabilise my leadership campaign".
One of his closest advisers scoffed as the leadership contender was asked about Mr Neil's comments by successive broadcasters.
Speaking in Pollokshields, Mr Yousaf said he could not remember any conversation with Mr Salmond at the time.
"I'm sure we spoke about equal marriage just as I would have spoken, I'm certain, with other government ministers – Alex Neil included, Joe Fitzpatrick who was the minister for parliamentary business who has said categorically, explicitly that there was a number of MSPs who raised the issue of equal marriage with him. I was not one of them because I had supported equal marriage.
"I supported it at stage one, support it now, would have supported it back then. If I had been in the Parliament, I would have voted for it at stage three."
However, when asked whether he had found Mr Neil to be an honest man during his time working with him, Mr Yousaf said: "I dealt with Alex Neil and enjoyed working with Alex Neil and I'm not sure why he's intervened in the way that he has." Pressed, he added: "How well do we know anybody we work with."
The defence was delivered as Mr Yousaf, finance secretary Kate Forbes and former community safety minister Ash Regan all secured sufficient backing to put their names on the ballot to be the next SNP leader and Scottish first minister.
Ms Forbes, Mr Yousaf's closest rival in the race, had another quiet day away from any interviews in a further attempt to distance her campaign from its difficult start. However, she was dealt a blow when deputy SNP leader in Westminster, Mhairi Black, said she had personally been "incredibly hurt" by the finance secretary's views on social issues.
In a lengthy statement on Twitter, Ms Black said the moment anyone used their faith to "justify voting against me having access" to rights, "then it is you who is showing intolerance".
She added: "The idea that Kate is being 'persecuted', or that there is a 'witch hunt' or 'unionist media plot' against her is utterly fanciful at best and a dangerous conspiracy theory at worst.
"Holding candidates to account, and scrutinising what they have said themselves – on camera, voluntarily, as a pitch to be the next FM of Scotland – is not abuse."
She continued: "How I, and others, are expected to have faith in a leader who unashamedly and publicly believes the love between my wife and I should not be legally recognised, is beyond me.
"Kate hasn't just jeopardised a lot of activists and members, she has alienated swathes of the population before she's even started. We need, and should expect, better judgement, communication, and leadership skills if we are to ever convince others of independence."
Ash Regan, the third candidate in the race, formally launched her campaign on Friday at a hotel in North Queensferry with mostly media and just one parliamentary supporter in MP Joanna Cherry present.
The former community safety minister claimed she would ditch a 'de-facto' referendum and replace it with a 'voter empowerment mechanism', which, should the SNP win a majority of seats and votes cast at the next election, would lead to a unilateral declaration of independence. This, she said, would "hand independence back to the people, where it belongs".
Asked why the UK Government would accept the result and enter into negotiations, she said her strategy has "got nothing to do with the UK Government", adding "Scotland is not going to be asking anyone's permission in order to become self governing" and claiming it would be "regarded well" by the international community.
She said: "If the voters of Scotland decide that this is what they want, when they're ready to do it, the international community will see that and I think that clear instruction should be enough to trigger those negotiations.
"I don't think it's up to the UK Government to deny [the wishes] of the people of Scotland."
She added: "This is not the de-facto referendum. I just want to be really clear on that. This is the voter empowerment mechanism, VEM. It is slightly different from that."
Ms Regan also said she would, on day, launch an independence convention – a strategy put forward and central to Mr Salmond's Alba Party.
The former minister was asked if any of her ideas were not Mr Salmond's, with her stating: "I am going for the leadership of the SNP. But I'm very clear that one person cannot have all the ideas."
The former minister, who first entered Holyrood in 2016, was also forced to defend her decision to send her children to private school. Her children spent time being educated at Stewart's Melville College in Edinburgh
She said: "I've just said that I want to refocus on the priorities of the Scottish people. Education absolutely would be one of those. I made the decision about my family circumstances before I got into politics.
"I'm a mother first, I'm a politician second, and I should expect everyone to respect that, as I would respect their choices for their families."