The revelation has led to questions as to why the leadership contender did not resign as finance secretary a year ago due to her opposition to the Bill.
SNP sources said her position meant she "would have been obliged to resign" had she raised any objection to the Bill around the Cabinet table.
The leadership contender told the BBC on Monday she would not have been able to back the gender reform Bill had she been in Holyrood as it passed through Parliament before Christmas.
"My concerns about self-ID have been well documented and I would have continued to have those concerns about self-ID," Ms Forbes said. "It's very difficult to talk hypothetically when it comes to a Bill, but I think I would have struggled to support that self-ID element of the Gender Recognition Act."
She told Sky News on Tuesday she also did not support making it easier for people aged 16 and 17 to change gender. However, The Scotsman can reveal Ms Forbes offered no objection when the details of the Bill were approved by Cabinet early last year.
It is understood the decision to progress the gender recognition Bill was brought to Cabinet at a virtual meeting chaired by the First Minister on January 18 last year.
Those present discussed the Bill and approved both the exact text of the legislation, bar some technical amendments, which would enter Parliament later that year.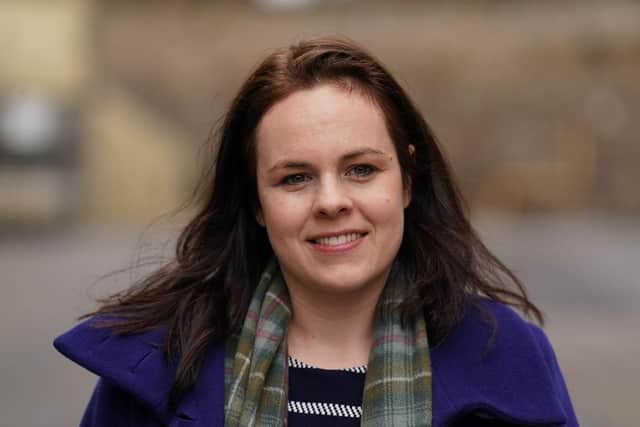 This included provisions for a system of self-identification and for the ability to legally change gender to be extended to 16 and 17-year-olds.
Ms Forbes, who was in attendance, did not object to the Bill, but did speak about the general controversy around the legislation.
A senior SNP source said: "Kate has framed this as an issue of conscience. That may be true, but if so she has to explain why it wasn't when she sat around the Cabinet table and agreed this Bill.
"The inconsistency of her position is difficult to square. She will doubtless face the charge that had she objected and Cabinet still agreed the Bill, she would have been obliged to resign."
A minister who objects to Government policy after it has been agreed by Cabinet should resign under the principle of collective responsibility, with decisions of Cabinet binding on all members of the Government.
The Scottish ministerial code states: "Where a minister considers that he or she cannot support a decision reached collectively by the Scottish Government and wishes publicly to dispute that decision, the minister in question should consider whether it is appropriate to resign from his or her ministerial role."
It comes as Ms Forbes's leadership campaign suffered from SNP figures withdrawing support despite having backed her candidacy on Monday, following a series of interviews around her views on equal marriage and whether having children outwith marriage is right.
Ms Forbes has said she is "loath to challenge" the blocking of the Gender Recognition Reform Bill by the UK Government through the use of a Section 35 order, a never-before-used part of the Scotland Act.
She said she would prefer to focus on issues that "most align with the people who sent us here to govern".
Ms Forbes's leadership campaign has been contacted for comment.
Want to hear more from The Scotsman's politics team? Check out the latest episode of our political podcast, The Steamie.