Ms Forbes, the finance secretary, laid into Humza Yousaf and even suggested the current Scottish Government's record was mediocre. Speaking the morning after the debate, she said the next first minister would need to have the "mettle" to take on the Tories in Westminster.
And she argued it would be "incumbent" on SNP MSPs to fall in behind whoever is elected by the party's members, whatever their personal views.
Mr Yousaf enjoys the support of four Cabinet ministers and multiple ministers and MSPs, and is seen as the establishment-backed candidate. Some SNP figures expressed dismay as tensions within the party exploded into the open during the stormy debate on STV on Tuesday night. Mr Yousaf said there was "a lot hurt" among activists and members following the comments made by Ms Forbes.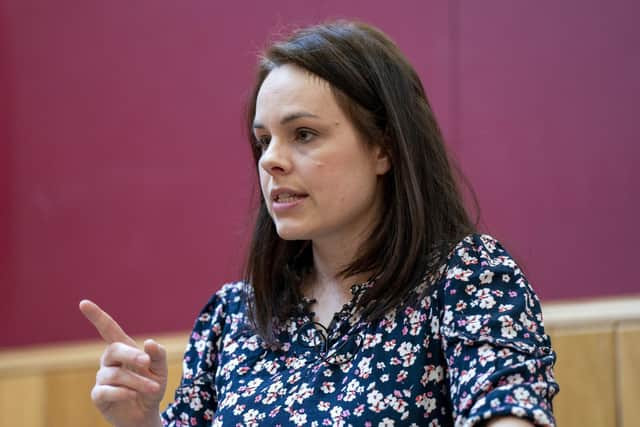 In a section in which the three candidates cross-examined each other, Ms Forbes trashed Mr Yousaf's record as a minister. She said: "You were a transport minister and the trains were never on time, when you were justice secretary the police were stretched to breaking point, and now as health minister we've got record-high waiting times. What makes you think you can do a better job as First Minister?"
In return, Mr Yousaf suggested Ms Forbes would drag the party to the right and could not be trusted to stand up for the Scottish people. He also highlighted the rocky start to her campaign, which was consumed by a row over her views on gay marriage. Mr Yousaf said Ms Forbes could not even keep Yes voters on side.
Meanwhile, the third leadership hopeful, Ash Regan, rubbished the independence strategies of the other two, branding them "wishy-washy".
SNP insiders expressed particular anger at Ms Forbes's suggestion that Nicola Sturgeon's record in government was mediocre. "More of the same is not a manifesto," the finance secretary said, in a clear dig at Mr Yousaf. "It's an acceptance of mediocrity."
Asked by The Scotsman if she regretted any of her comments during the TV debate, Ms Forbes said: "This is an election contest to be the next first minister, and I think the public and SNP members want to see somebody who has the guts to recognise what needs to change, and also recognise the fact that we need to have a plan to deliver.
"And last night was all about having the candour and the honesty to say that more of the same isn't what Scotland needs. We actually do need change.
"But secondly, it was about competence, and if any SNP leader and future first minister is going to be taking on the Tories in Westminster, for example, then they need to have the mettle and they need to have the courage to do that, and I think that was what was on display last night."
Ms Forbes insisted "more of the same won't cut it", adding: "We do need an honest and grown up debate, and I think the SNP is big enough and brave enough to have that adult debate about what the future holds."
Speaking during a visit to the Scotch Whisky Experience on Edinburgh's Royal Mile, she added: "Humza said last night that he thinks robust exchanges are important. I agree. We are electing the next leader of Scotland.
"If we can't have robust exchanges about the future of our economy, the future of our public services and how we deal with the issues that are of profound significance to Scotland, then that leaves the question of how healthy [the] democracy is."
Asked about MSPs backing whoever is elected the next first minister, Ms Forbes said: "If members make a choice, I think it's incumbent on elected representatives, who answer to their branches, to respect that choice."
Mr Yousaf told the Daily Record he was "very proud of our track record in government". He said: "It's delivered us election victory after election victory. Anyone who trashes that record, especially those that belong in the Government, I think does a disservice to our activists and to our members. Having spoken to them, there is a lot hurt from them about one of our own trashing that record."
Speaking during a visit to Irvine, he continued: "If my phone messages are anything to go by since last night, there is so much hurt there. What I will continue to do is talk up our amazing track record and build upon that legacy."
Scottish Conservative chairman Craig Hoy said: "We all knew the SNP was split down the middle, but last night's vicious debate laid bare the true scale of the mutual loathing between the different factions. The candidates spent the debate torching each other and their party's record in government. Given they all are – or were – integral to that government, they were also, effectively, setting fire to themselves.
"Kate Forbes said she'd not have Humza Yousaf as health secretary if she was victorious, but it's almost impossible to envisage either of them serving in the other's Cabinet, such was the extent of the vitriol they directed at each other.
"The SNP is openly at war with itself. But it's ordinary Scots who are suffering as senior figures in the Scottish Government neglect the day job to kick lumps out of rival factions in their own party.
"But even when this brutal contest is over, they won't be able to return to the people's priorities, because it's clear a shared obsession with pushing independence is the only thing they agree on."