The ferocity of the response has led to some of her supporters claiming it demonstrates an intolerance within Scotland, whereby individuals with faith are effectively barred from standing for public office. But this concern is misplaced, if not disingenuous.
Nicola Sturgeon was forced to answer questions on her position on equality issues both in Parliament and in press interviews, most notably around gender reforms and transgender prisoners. It follows, therefore, that any successor must also state and justify their position. Ultimately it is up to the electorate to determine whether that position is palatable.
As with any politician, Ms Forbes's views matter if, and only if, they inform how she chooses to govern. It is not about faith, it is about policy.
Those suggesting her views are inconsequential and irrelevant to her policy approach in government are being disingenuous, and even her supporters know it.
Take equal marriage. On this issue, Ms Forbes said she would vote No in an equal marriage Bill today, albeit hypothetical – something that as an MSP would literally be imposing her personal view on the population.
The finance secretary has also said she would not challenge the UK Government's section 35 order blocking the gender recognition reforms. She added she would not have voted for the Bill because of her private concerns.
Her personal views on gender recognition reform, therefore, have already informed and are actively determining her policy platform on the issue. That extends to any future government she intends to lead.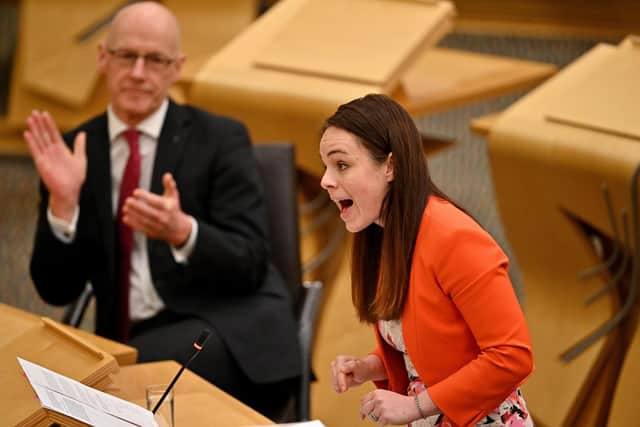 It is inconceivable her supporters were not aware of her views on social issues, particular gender reform, before they threw their weight behind her.
After all, three of her staunchest supporters, Michelle Thomson, Jim Fairlie and Annabelle Ewing, formed part of the nine-strong rebellion on gender reform.
It is highly likely, if not guaranteed, that her views have been a central tenet on which to base their support.
They want a change in policy, a change informed and determined by Ms Forbes's private views and one she intends to make. That alone makes her wider social attitudes of public interest.
Mr Fairlie claimed the backlash was an example of cancel culture. It is possible the electorate, in this case SNP members, simply view them as unpalatable.
Want to hear more from The Scotsman's politics team? Check out the latest episode of our political podcast, The Steamie.