In a jibe at his fellow leadership hopefuls, finance secretary Kate Forbes and former minister and gender rebel Ash Regan, Mr Yousaf said his party owed its "dizzying" success to progressive policies.
The health secretary said a move away from that platform would not only hurt the SNP, but would also impact support for independence.
He also denied breaching his own party's definition of transphobia by stating transgender rapist Isla Bryson is "at it" and not a true trans woman as he launched a key policy to expand free childcare provision to one and two-year-olds, with a goal of offering 22 hours a week throughout the year.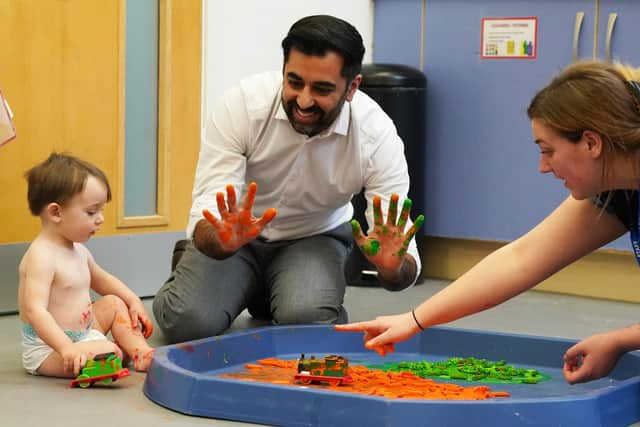 Speaking in Edinburgh, Mr Yousaf defended the policies of the Scottish Government amid comments from Ms Forbes and Ms Regan they would scrap the controversial deposit return scheme and ditch a possible challenge to the UK Government's section 35 order, which blocks the Gender Recognition Reform Bill.
He also announced plans for a £25 million annual "helping hand fund", which would offer parents returning to work a £500 loan towards childcare costs, and committed to use his first budget as first minister to expand free provision to one and two-year-olds.
Three and four-year-olds can currently access up to 1,140 hours of funded early learning and childcare a year, which is around 30 hours a week in term time. Some two-year-olds are also eligible for free childcare on a means-tested basis, with around a quarter of the age cohort having this entitlement.
Mr Yousaf said an expansion of free childcare would happen on a phased basis under his leadership, initially costing around £100m in the 2024/25 financial year.
He said the scheme would take several years to reach all one and two-year-olds, but he would "accelerate" the rollout compared to existing plans.
During a visit to Dr Bell's Family Centre in Leith on Tuesday, Mr Yousaf was asked if the other candidates' policies would mean a shift to the right for the SNP.
He said: "I believe in a wellbeing economy. I believe, of course, in economic growth, but not for its own sake, in order to make sure that people's living standards increase, to make sure we can pay people properly so they can withstand the shocks of things like the Tory cost-of-living crisis.
"I would say to any of my colleagues in the leadership race that the SNP has managed to gain support to dizzying heights because of the progressive agenda that we have. I think it would be foolish to abandon that."
Asked whether his leadership rivals were in danger of moving the SNP away from its progressive traditions, Mr Yousaf said that was a "concern many people will raise".
He added: "I would, first of all, commit myself to the progressive agenda that has seen the SNP gain huge amounts of support, unprecedented history levels of support. And that has come on the back of the fact that we are a progressive party and any shift away from that will diminish our support and diminish the support for the independence cause."
Mr Yousaf was also asked about the case of Bryson, the transgender rapist who was sentenced to eight years in jail on Tuesday. The case caused a political storm when the prisoner was initially housed in a women's jail.
The health secretary has said Bryson was "at it", repeating today the rapist is "deceptive, manipulative".
He denied, however, breaching his own party's policy on transphobia, which states transphobia includes "deliberately misgendering someone or using phrases or language to suggest their gender identity is not valid".
Ms Forbes called Bryson a "biological man" in an interview, sparking a formal complaint to be submitted to Lorna Finn, the national secretary of the SNP, by Erin Lux, the co-convenor of the SNP's LGBT+ wing, Out for Independence.
Asked whether he was guilty of breaching the guidance, Mr Yousaf said: "No, as I said I've been asked my opinion about whether I think Isla Bryson is being genuine or trying to manipulate the system. I think they are trying to manipulate the system.
"I think Isla Bryson is deceptive, manipulative, trying to gain advantage of the system and I hope they are incarcerated and will be incarcerated in a male prison."
Mr Yousaf was also asked for his response to a further two ministers stating he was not telling the truth about the reasons for him skipping the equal marriage vote in 2014, instead attending a meeting at the Pakistani Consulate.
The health secretary said the meeting was "unavoidable", but former ministers have said the meeting was arranged for him to avoid the final vote.
He said he would not "sling mud" at former ministers when asked if those contradicting his account, such as Alex Neil, were lying.
Asked whether he was a coward at the time, Mr Yousaf said: "not at all". When pressed on the fact this issue was one of honesty, he added: "I can only give you my account and you can take from that what you will."
The result of the membership vote will be announced on March 27 after two weeks of voting.
Want to hear more from The Scotsman's politics team? Check out the latest episode of our political podcast, The Steamie.