The health secretary, widely seen as the establishment-backed candidate in the race for Bute House, also said he would seek a transfer of powers to hold an independence referendum, similar to the stance of his rival Kate Forbes.
Mr Yousaf's comments came as a poll of SNP members indicated he holds the lead in the contest to become the next first minister.
The poll of 515 SNP members, undertaken by Savanta for The Telegaph, put him at 31 per cent, ahead of Ms Forbes on 25 per cent and outside contender Ash Regan on 11 per cent.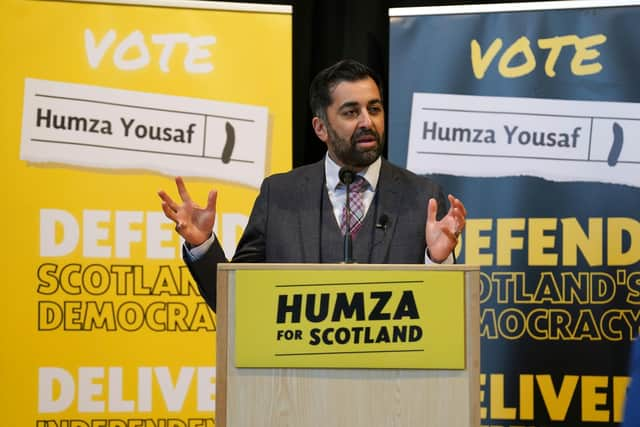 However, don't knows remain the highest proportion of responses, with 32 per cent of preferences, meaning there is everything to play for over coming weeks. With don't knows excluded, Mr Yousaf is on 46 per cent, with Ms Forbes on 37 per cent and Ms Regan on 17 per cent.
On the campaign trail in Arbroath, the health secretary used a speech on independence to outline the differences in his policy platform to that of his rivals, committing to not only challenge the use of section 35 – an effective veto power within the Scotland Act – but also using the next general election to return a mandate to repeal it.
In a speech, he also hit out at his fellow candidates over the differing policies on challenging the use of section 35 by the UK Government.
Drawing a clear line in the sand between him, Ms Forbes and Ms Regan, both of whom have said they will not automatically challenge the order, Mr Yousaf said it was "inconceivable" to "concede any democratic progress we have made". He said he would oppose "any power grab by Westminster, on any issue".
Mr Yousaf told activists: "Even if it was an issue I fundamentally disagreed with, I would be the first one standing up to defend our Parliament from a Westminster veto over our democratic institutions.
"Anyone running for first minister must be able to say that they will defend the democratic will of the Scottish Parliament at all times. No ifs, no buts, no maybes. If we do not, if we cave in the first time they use a section 35 order, they will veto legislation after legislation time and time again."
Turning to his pitch on independence, he said he would demand a transfer of power, which would allow Holyrood to hold a referendum in a pledge similar to that of Ms Forbes.
He said: "We must demand our right to self-determination from whoever forms the next UK Government. Building our case for independence, demanding the power to hold our referendum on our terms and repealing section 35 will be central to our next election campaign."
Mr Yousaf said the Scottish Government would be put into "fifth gear" to complete its work on the independence prospectus papers, with their contents used to "back our vision of a socially just independent nation".
Questioned by reporters after his speech, he said a repeal of Section 35 was needed due to the precedent set by the UK Government breaching the Sewel Convention – where the UK will 'not normally' legislate on devolved matters – multiple times.
"It took them 20 years to do it [breach the Sewel Convention], but once they did it they've done it half a dozen times," he said.
"We know this is the thin edge of the wedge. Once they use section 35 once, especially if we don't stand up to that power grab, then they will do it time and time again."
Challenged to state why any UK Government would agree to a rewriting of the Scotland Act, Mr Yousaf said it would ultimately be up for UK Labour in particular to "put their money where their mouth is" and "respect the devolution settlement".
His comments came as Ms Forbes said she would instruct transport officials to come up with a timetable before the end of June to dual the A9 if she is elected first minister.
The finance secretary has been outspoken about the need for the project to be completed after further delays were announced as a tender offer was deemed not to represent value for money.
Speaking to MSPs last month, transport minister Jenny Gilruth said meeting the deadline to dual the road between Perth and Inverness by 2025 was "simply unachievable".
In a statement released on Friday, Ms Forbes said: "In my first week in office, I will instruct Transport Scotland to consider whether it can deliver a plan to do this work by the end of the decade. A timetable must be published by June at the very latest and certainly not in the autumn.
"Promises matter. Where we make them, we must keep them. It's about honesty and trust, and that shall be my approach if I am elected first minister."
Ms Forbes also said that car usage in rural communities was "a necessity and not a luxury". The road, she said, may not be completed until 2050 – according to "industry", although it is not clear how this timetable was arrived at.
The A9 has been repeatedly mentioned in the SNP leadership campaign, with Ms Regan even opting to apologise on behalf of the party for the delays to the project.
Describing the issue as a "total drop of the ball", Ms Regan pledged to appoint a project director if elected who would oversee the dualling and provide public updates.
Ms Regan, who visiting a wave research facility in Edinburgh on Friday, announced her plans to clean up the SNP as she continued to outline her credentials as the change candidate.
Her plans include publishing a "comprehensive overview" of the party's finances, and the party headquarters publishing and maintaining a list of "known issues" and "hot topics" to improve transparency.
Want to hear more from The Scotsman's politics team? Check out the latest episode of our political podcast, The Steamie.