Party co-leader Patrick Harvie told his party's conference that for the Greens a "sincere commitment to progressive values cannot be an optional extra in a choice of first minister", saying instead that this was "necessity".
Fellow co-leader Lorna Slater, meanwhile, said the party would not stay in the Scottish Government with the SNP "at any cost" as she said the Greens would "never be a party that is prepared to put our principles to one side".
The two politicians, who are both ministers in the Scottish Government, spoke out as voting continues in the contest to succeed Nicola Sturgeon as both SNP leader and Scottish first minister.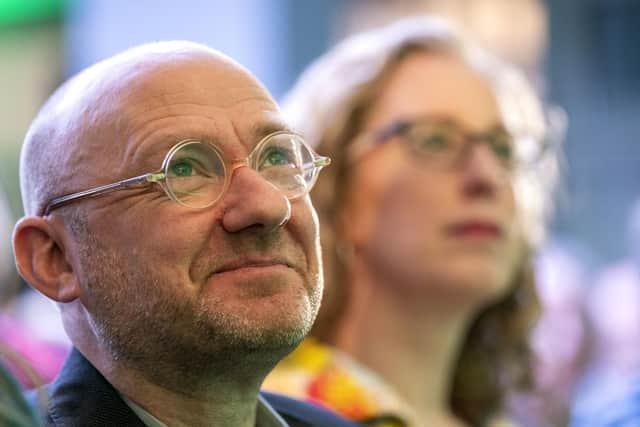 The result of that ballot will be announced on Monday, with Scottish Finance Secretary Kate Forbes running against Health Secretary Humza Yousaf and former community safety minister Ash Regan for the top job.
Mr Yousaf is the only one of the three who has committed to challenging Westminster's veto of gender recognition reforms passed by Holyrood - with this seen as being crucial in keeping the Greens on board in the power-sharing agreement which gives the SNP a majority at Holyrood.
Ms Forbes has also signalled that as first minister she would scrap plans for more protected areas in Scotland's waters, where fishing would be banned.
A commitment to that is also part of the Bute House agreement power-sharing deal between the SNP and Greens, with Ms Forbes saying these areas would help address the "long-term policy of decline that has seen fish populations collapse".
Addressing the Scottish Green Party conference in Clydebank, West Dunbartonshire, Ms Slater said: "Without Scottish Greens in government and without the Bute House agreement, there would be no-one standing strong for our environment."
She told party members it had been an "honour and a privilege" to be part of Ms Sturgeon's government.
With SNP members voting for their new leader, she said the Greens "have a choice we must make too".
Scottish Greens will meet on Monday to "choose whether we want to continue in government".
Ms Slater said: "I want us to stay in government and see through the change we have begun.
"But not at any cost. We will never be a party that is prepared to put our principles to one side."
With the new SNP leader also facing a formal vote at Holyrood before becoming the next Scottish first minister, Ms Slater said her party would only support them if "they are committed to the politics of co-operation" and "if they respect and share our values of equality and environmentalism".
The new first minister must also "agree that trans rights are human rights and that our trans siblings cannot be used as political fodder by Westminster", she said.
She told the conference: "These are fundamental issues for us. They are non-negotiable."
Her comments came after fellow co-leader Mr Harvie had told the conference: "We need to be clear that a sincere commitment to progressive values cannot be an optional extra in a choice of first minister, it is a necessity."
He added: "It's not just the policies and the values. It's also about the constructive way of working that's written into the Bute House Agreement - genuinely seeking common ground."
While he said that Ms Forbes had "said that she wanted to keep working with us", Mr Harvie said the Scottish Finance Secretary had "made it clear in a televised debate that working together simply meant us accepting her agenda".
He dismissed this as being "hardly the spirit of co-operation".