The Aberdeen South MP replaced long-standing leader Ian Blackford in what some in the party regarded as a coup, but others viewed simply as a changing of the guard.
Despite claims Ms Thewliss was the candidate supported by First Minister Nicola Sturgeon, the race was not close, despite some SNP MPs loyal to Mr Blackford angry at how events unfolded. Now 100 days on, there has been no public outbursts from disgruntled MPs and the party has seemingly rallied around the new leader.
But how has he fared and is the public positivity from his party reflected behind the scenes?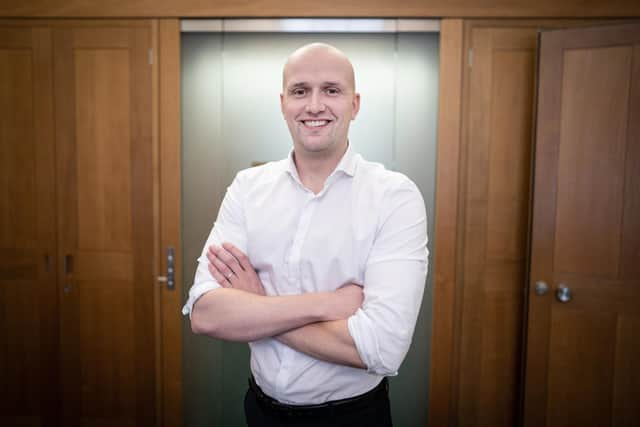 Prime Minister's Questions
The most important public facing event for the SNP Westminster leader is PMQs, at which he is guaranteed two questions due to being the third biggest party. Mr Flynn has brought a unique and refreshing approach to proceedings, asking concise questions without notes that was a far cry from the more lengthy comments of his predecessor.
However, his initial questions tended to lead on criticism without a question to get the Prime Minister on the defensive, instead giving Rishi Sunak free reign on how to answer.
While his lack of notes impressed MPs, there were some concerns the new leadership were cutting out others from decisions, leading to a weaker performance.
This now appears to have turned around, with Mr Flynn getting stronger each week. He still uses short cutting questions, but now with more focus on detail to pin the Prime Minister down. SNP Europe and EU accession spokesperson Alyn Smith said: "He's sharp in the chamber and has always been careful to target Labour's 'Tory-Lite' position. He's impressed across the divide".
One area that at times seemed precarious for the new leader was party unity, with Mr Blackford describing a "degree of anxiety" among SNP MPs after he stood down. Many loyalists to Mr Blackford were angry at his departure, viewing Mr Flynn's ascent as a coup a year in the making, despite claims the Aberdeen South MP only stood when there was a vacancy.
SNP figures described a "fractured" party in his first few weeks, but now say while there remains anger, the new leadership has avoided any public spats with his own MPs.
Instead, outspoken figures no longer in leading roles such as Pete Wishart and Stewart McDonald became big names on the backbenches, giving the party depth away from the frontbench. One MP, who did support the new leader, suggested the party was not back together, but getting there.
They said: "Some of the changes in the group are still to bed in, some grumbles about some members still not pulling their weight." Another supporter, Anum Qaisar, told The Scotsman the new leader was "relatable" and a strong performer at PMQs.
She said: "In his first 100 days in office, Stephen has hit the ground running, showing what it means to be a leader. His frank and honest approach to politics is exactly what Westminster needs. He genuinely cares about the issues that matter to people in Scotland and is their voice in Westminster – and as testament to this I think he's a leader that a lot of people across Scotland, and even across the rest of these islands, can relate to.
"Stephen is straight talking and isn't afraid to be outspoken, especially when there is a lot of hot air and grandstanding coming from both the Tory and Labour benches each week at PMQs."
Others were less impressed, with one SNP figure labelling his tenure so far as "pretty unremarkable".
They continued: "Even his supporters are starting to wonder 'what it was all for?' Labour are hurtling towards us in the Central Belt and he's busy trying to make a name for himself by touring branches and speaking to our membership. A sharp quip at PMQs ain't going to cut it. He needs to spend more time thinking and less time showboating."
It is also worth noting at every SNP leadership hustings, Humza Yousaf has mentioned Mr Flynn's support, suggesting he is popular across party. Several of those who were critical initially have also changed tact, telling The Scotsman Mr Flynn has brought people with him.
The view among opposition MPs is Mr Flynn is a strong media performer, but amid the departure of Ms Sturgeon, the SNP remain vulnerable. Privately, there is also strong feeling opposition MPs had better working relationships with Mr Blackford and could do more with him cross-party.
Labour's shadow Scotland secretary Ian Murray claimed the Aberdeen South MP had presided over "100 days of chaos".
He said: "His leadership started with an aborted coup, then a successful coup, the resignation of the old chief whip, the resignation of the new chief whip, the old chief whip coming back and Nicola Sturgeon resigning.
"Every day that goes by the SNP becomes more and more desperate, as they fear the prospect of a Labour government across the UK. None of the contenders to replace Nicola Sturgeon can hold a candle to her ability as a politician."
Lib Dem MP Alistair Carmichael claimed Mr Flynn's rhetoric was good for "social media", but did little to change how his party approached campaigning against the SNP.
He said: "I suspect that he probably meets with more approval with the nationalist base than Blackford ever would. That said, he is rapidly becoming even less effective than Blackford. He is a bit of a one-trick pony. If you are angry about everything all the time, then what do you do when something comes up that really should generate anger?
"He may make for a better social media clip, but he is much more easily dismissed by other parties. I don't think he is really making any difference to what we do."