The SNP leadership hopeful said nothing should be taken off the table when it comes to building and demonstrating support for independence.
However, he insisted there had to be a "consistent majority" for leaving the UK, adding: "We don't have that at the moment."
It came as Mr Yousaf argued independence "can be achieved within five years" but said this would "take persuasion".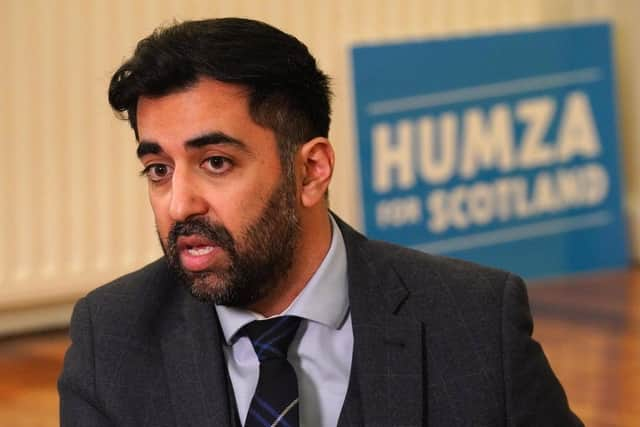 SNP members will begin voting on Monday for the next party leader and First Minister following the shock resignation of Nicola Sturgeon last month. Mr Yousaf is running against Kate Forbes, the current finance secretary, and ex-community safety minister Ash Regan.
Figures published by the Mail on Sunday suggest the SNP has lost almost 50,000 members over the last three years, with 78,000 online forms due to be sent out by the company running the ballot. The SNP had 125,691 members in 2019.
Mr Yousaf, who is the SNP health secretary, said an early election could be called "to test the popular will, when we believe we have that consistent majority support for independence".
Asked if he was "seriously considering" this, he said: "To achieve independence we will use any means necessary that is within a legal framework, of course. So therefore, I want to empower our membership, because the process is important, I accept that.
"I want to be talking more about policy and vision, but I accept the process is important. So I've said within the first week, we are going to set up those regional assemblies, empower our membership. But let's take nothing off the table, whether it's de facto referendum, whether it's using the Holyrood election..."
Mr Yousaf was then asked what would convince him that the time was right to hold a snap election. He said: "It would be about demonstrating that we have a consistent majority for independence. We don't have that at the moment.
"This week is a perfect example. We've seen one poll put support for independence below 50 per cent, and literally a day later support above 50 per cent in another poll. We can't have that fluctuation – we have to have a consistent majority for independence. We have that, then all the political obstacles that Westminster put in the way of independence will disappear."
Mr Yousaf rejected suggestions that this was a long way off, adding: "I don't accept at all that it is far away. I think we are absolutely at a precipice, at a tipping point."
Elsewhere, he was asked if he could serve as a Cabinet minister under Ms Forbes, his main leadership rival. The pair have traded verbal blows during recent TV debates, with Mr Yousaf raising concerns about her socially conservative religious views.
He said he would "have to have a discussion with whoever the First Minister was and understand what their perspective was".
Mr Yousaf said his leadership style would be "less inner circle" than Ms Sturgeon's, and "more big tent".
Meanwhile, Ms Regan insisted she is in the SNP leadership contest to win it, despite being regarded as an outsider. Ms Regan, who quit the Scottish Government last year so she could vote against gender recognition reforms at Holyrood, accepted she is "probably the least well-known out of the candidates with less name recognition" – adding that means she has to "work that bit harder to set out my stall".
But she said: "At the moment we understand that a large amount of the membership are still undecided, it is a very short contest. But I have had many people get in touch with me recently to say that they think I am the only hope for the SNP."
Ms Forbes said Scotland needed a First Minister who is a winner, and who understands "what is important to all the people of Scotland". She has published her own mini-manifesto, covering themes from the economy to the NHS to poverty and inequality.
Ms Forbes said: "Scotland faces a choice. SNP members will decide who will be the leader of our party and next First Minister of Scotland. We need to make the right choice, the stakes are very high. The question we need to answer is what kind of First Minister do we need to deliver for the SNP and for Scotland?
"We need a First Minister who the people of Scotland can trust – a First Minister who commands confidence. No-one can accuse me of not delivering, of bending under pressure or being unprincipled.
"We need a First Minister who understands what is important to all the people of Scotland, who understands their concerns and how to address them. I will rise to the challenge.
"We need a First Minister who is a proven winner. Opinion poll after opinion poll shows me as the only candidate who can win for the SNP, and for Yes. I have delivered in my constituency one of the biggest votes for the SNP in the country. Let me do that across Scotland.
"We need a First Minister who will lead us to independence, and it's coming sooner than people think. I believe I've got what it takes to be the next First Minister of Scotland, the First Minister who will lead Scotland to independence."
Scottish Conservative chairman Craig Hoy said: "Humza Yousaf's vow to achieve independence by 'any means necessary' proves that he is nothing more than a continuity candidate for Nicola Sturgeon's failed approach.
"Scotland has had 16 years of SNP Governments putting their endless pursuit of independence above the public's real priorities – and all three leadership candidates have made it clear they offer no change.
"Scots don't even have to wait for Humza Yousaf to become First Minister – he's already ignoring our real priorities right now. Despite claiming to dedicate 'every waking moment' to Scotland's struggling NHS, it's clear that Humza Yousaf has had one eye on his own ambitions since this leadership contest began.
"And the Health Secretary's reluctance to serve in a Kate Forbes cabinet is just another example of the bitter divisions that have been exposed in this race.
"While Humza Yousaf has spent the last few weeks focused on this savage SNP infighting, promoting his leadership bid and outdoing his rivals on independence, over three quarters of a million Scots are languishing on NHS waiting lists. The Scottish Conservatives will continue to focus on Scotland's real priorities while the SNP leadership candidates obsess over their civil war and independence."