Gone was the visceral brutality of the STV debate, punctuated by fierce personal attacks and destructions of the SNP's record in government, replaced instead by a dissection of policy and individual.
This was a rapid session of question and answer, hosted ably by Krishnan Guru-Murthy, who has a knack of pinning politicians at their most vulnerable and their weakest. There was one candidate who smelled blood, however, and that was Humza Yousaf.
Despite pre-debate promises to keep his campaign positive, the health secretary dialled in on the attacks on the Government's record from his nearest rival, Kate Forbes.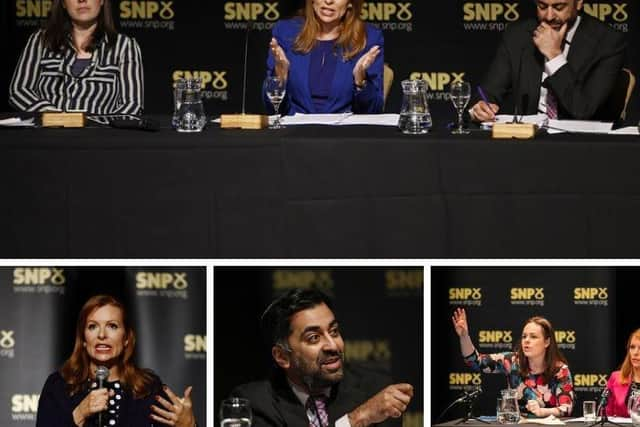 The finance secretary attempted to squirm free of the insults thrown at her Cabinet colleague on Tuesday, saying it had been a "privilege to serve" alongside Mr Yousaf. This was despite her evisceration of his record in government as first, transport minister, secondly justice secretary, and most recently health secretary.
Mr Yousaf was at his calm and collected best, managing to keep away from his instinct of responding in kind in the heat of the moment and instead hitting Ms Forbes where it hurt. Never mind the potential accuracy of his rival's points, she had crossed a line, he said.
"First and foremost, we're not going to win people to our cause if we going to sit here and trash each other and talk down each other's record," he said. "The SNP has a good record, that record in government has helped win us support."
Ms Forbes's attack wasn't just personal, he inferred, but against her colleagues in Cabinet, SNP activists fighting on that record, and most tellingly, the party.
"What you've done is you've handed the Conservatives and our opponents material, ammunition to attack and trash our record," he said. "Now you will be on every single leaflet."
He is right, of course. Douglas Ross at First Minister's Questions earlier on Thursday promised as much. Scottish Labour also will not have been able to believe their luck.
Ms Forbes, attempting to get back on track, rejected the suggestion she had been too harsh. She insisted she was "proud" of the SNP's record in government, but pointed at the need for candidates to "have the time and the space for robust frank exchanges."
She added: "What would be mediocre is if we continued to do what we've done for the last few decades." It was hardly convincing.
The finance secretary's night got tougher when Guru-Murthy turned the panel's attention to their personal beliefs. What followed was a repeat of the first week of the campaign, albeit with the message more polished and effective.
Gone were the foot-in-mouth answers, replaced with equivocation and nuance, shielded in a lack of clear-cut answers, particularly on abortion. Ms Forbes said it was right there should be "conscience votes" on issues such as assisted dying, and used the criticism of her views as an opportunity to attack Mr Yousaf.
"What I am asking is believe me", she said, challenging her rival to say whether he thought she was "honest or not". This quickly fell away when she failed to fully answer a straight question on abortion and whether it was right or wrong. She said she would not have one herself, but would defend the legal right to have a termination.
Her response, while nuanced, is unlikely to sway any of those concerned by her personal views.
The truth is Mr Yousaf does not believe her, and thinks members agree, stating the LGBT community "don't believe you will stand up for their rights".
While Mr Yousaf won the battle, the case for him winning the war is far from convincing, yet. But he and his team felt he had nailed this debate, they say he rose above it. In truth, he smelt an opportunity, and for the first time on TV during this campaign, Ms Forbes let him take it.
Whether it works in his favour throughout the duration of the campaign is yet be seen. The finance secretary was clear speaking to reporters afterwards, stating her rival's commitment to running a positive campaign had "disintegrated".
Ash Regan struggled to get a word in as the two main candidates dominated, and when she did it was the best of the entertainment. Pushing her strategy for independence at every turn, she had the line of the night.
"I think this is the time for Bravehearts, not faint hearts," she told the viewing audience.
She was, however, the one most keen to speak about independence, and used the "wishy-washy" nature of the two main contenders' policies on the issue to go on the attack, somewhat effectively at times.
When she was the subject of questioning, however, Ms Regan fell apart. Her lack of attention to detail and of clear policy proposals showed through, and she suffered from being viewed simply as an also-ran.
In truth, this was a difficult night for all the candidates.
Mr Yousaf was forced to respond to the accusation he was "fantastically unpopular" within the first minute of the debate, Ms Forbes sweated under the microscope on her personal views, and Ms Regan managed to also suggest Gary Lineker's defence of migrant rights deserved a "red card".
The viciousness may have been left at home, but the divides and distrust remain.
Want to hear more from The Scotsman's politics team? Check out the latest episode of our political podcast, The Steamie.