Michael Russell, the party's president and interim chief executive, said it would be "massively disruptive and confusing for members" and could even be vulnerable to hacking attempts.
The call came from Ash Regan, one of three candidates vying to become the next leader and First Minister. She said members had previously been allowed to "update" their choice in a selection contest held in 2015.
It follows the high-profile resignations of media chief Murray Foote and SNP chief executive Peter Murrell, who is Nicola Sturgeon's husband.
A row erupted after the party initially rubbished claims it had lost 30,000 members since 2021 – a number which was later revealed to be correct. The SNP went on to confirm membership numbers fell from 103,884 in 2021 to 72,186 in February 2023.
Mr Murrell said that while there was "no intent to mislead", he accepted "that this has been the outcome". Mr Russell said at the weekend the situation was a "tremendous mess".
The row fuelled wider concerns about the transparency of the voting process, with suggestions from figures close to Ms Regan that the ballot should be restarted. The next SNP leader is due to be announced next Monday.
All three candidates – Kate Forbes, Humza Yousaf and Ms Regan – took part in a hustings held by LBC on Monday evening. Mr Yousaf said that if he was elected leader, he would want to "get in amongst the weeds" to understand why the party had lost so many members.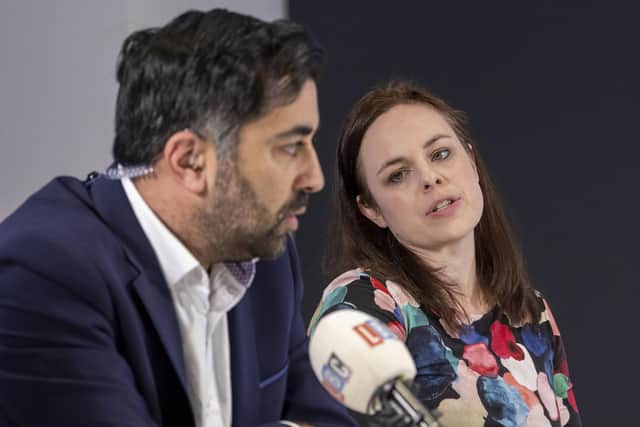 Ms Regan said she believed there was a "significant amount of voter regret out there at the moment". She said the contest was being run in an "inappropriately short time frame".
Asked if she was looking for the courts to intervene, Ms Regan told the LBC hustings: "No. I have taken legal advice, but I have no plans to take any court action." She confirmed she will support whoever is elected leader in the contest.
In a statement earlier, Ms Regan said there had been "a surge in traffic in our campaign mailbox and social media from concerned members, looking for guidance on whether the ballot will go ahead unaltered or if the ballot will be reset".
She said: "My team have put forward proposals that provide assurance to members with minimum disruption to the election process that we can move ahead constructively on.
"In 2015 selection contests for Westminster candidatures had varying end dates. In some cases, candidates were removed from the ballot before a race ended, where this happened members were able to update their vote. The facility exists within the Mi-Voice system.
"This would have the benefit of not disrupting members who are happy with their vote while providing an opportunity to reconsider for those who are not. In addition each candidate would be allowed to send one email to the members using the SNP mailing system – allowing a last minute updated message that reflects current events."
The SNP election process is being carried out by Mi-Voice, an election services firm based in Southampton.
Responding, Mr Russell said: "On the specific issues raised today, it would clearly be massively disruptive and confusing for members to be able to recall their ballot – something that is not done in any public election and which cyber security experts have advised, most recently to the Conservatives when they considered an online ability to change a vote, could be subject to hacking attempts.
"Moreover, the precedent cited by one of the candidates does not provide any sort of comparison, and potentially exists only where a candidate had withdrawn, or been removed, from a contest.
"On the question of another statement from candidates, the rules and practice governing the ballot were made very clear to the candidates from the beginning and accepted by them when they chose to take part. Of course, the views of all the candidates on internal and external issues pertaining to the contest have been widely shared through nine hustings – most of which were live-streamed – five TV debates and in every media outlet.
"It is, frankly, very unlikely that any member could be unaware of the vital matters at stake, the key issues that impact on our country and the party, and the candidates views on them."
Ms Forbes and Mr Yousaf have both rejected suggestions the ballot should be restarted.
Mr Yousaf said Ms Regan's proposals were not necessary. Speaking in Glasgow, he said: "I just don't think it's needed given that all three candidates say that they respect the integrity of the ballot but also that they will respect the outcome. I don't know why, in the last week, we'd want to change the system which could probably cause some level of confusion."
Elsewhere, Ms Sturgeon denied the SNP is in a "mess", insisting the party is simply going through "some growing pains". Appearing on ITV's Loose Women, the outgoing First Minister also said she did not regret her decision to step down.
However, she admitted the SNP had "mishandled" the row over its membership figures.
Asked about the row, Ms Sturgeon said: "The SNP is not in a mess. It's going through – how can I put this – some growing pains right now. They are necessary but they're difficult. But I'm stepping down from a party that hasn't lost an election since 2010 in Scotland."
She added: "Usually parties go through a process like this when they've been kicked out by the voters. That's not the position the SNP is in.
"I've won – my party, rather, has won eight elections in my eight years as leader, so we're actually in quite a strong position. But I wouldn't be standing down if I didn't think this was the right time for some change, renewal, refresh. And I think the trick for my party is to do that while not throwing the baby out with the bath water, and not losing the things that have made us so successful."