He has served in Nicola Sturgeon's ministerial team since 2018, two years after being elected into Holyrood as the MSP for Edinburgh Northern and Leith, and has backed Humza Yousaf in the ongoing leadership election.
The intervention is likely to intensify ongoing debate within the SNP about the planned strategy for achieving independence, and is likely to anger fundamentalist members of the party.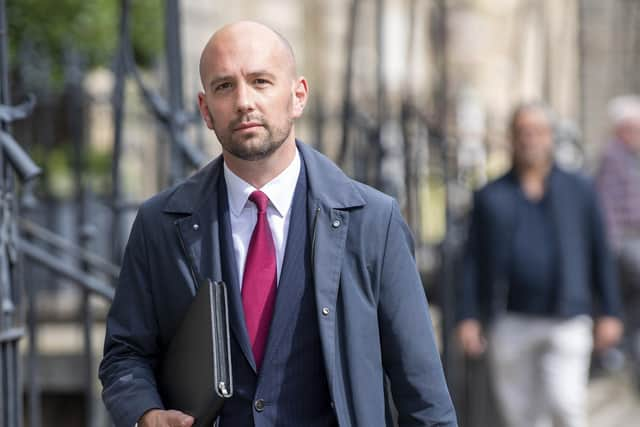 It is also a rebuke of the outgoing First Minister's plans to hold a so-called 'de facto' referendum at the next general election, a proposal two leadership contenders, Kate Forbes and Mr Yousaf, have distanced themselves from in recent weeks.
Mr Macpherson argues that without an agreement with the UK Government which would allow a second independence referendum to be held, the SNP should shift its focus to how it works "with others to build consensus, and responsibly deliver more of a gradual process of further constitutional change".
This could see the party work constructively with a potential Labour government in Westminster to deliver further constitutional change, something the Edinburgh MSP said would make sense to "any reasonable UK government"
However, in likely the most controversial aspect of his intervention, the minister also admits Scotland lacks the the infrastructure to "quickly transition" to being independent, arguing ties with Westminster will never be fully cut in an independent Scotland.
He writes: "Many in the population, including in the independence movement, reasonably question if Scotland is ready, yet, to transition to full statehood. I'm not afraid to admit that such honest and important concerns have some justification.
"The fact is – and facts matter – Scotland doesn't yet have all the necessary 21st century state infrastructure to quickly transition to a successful, modern independent country in the short-to-medium-term."
Labelling this fact a "hard reality" he has learned since the 2014 referendum, Mr Macpherson states that his experience as social security minister – which has included years of transferring cases from UK Government systems to Scottish equivalents – had resulted in the conclusion that "practical implementation of constitutional change takes time if it is to be done securely and effectively".
He adds: "Wishful thinking and good intentions will not change that, and anyone suggesting there are shortcuts is not being upfront about the practical realities."
Pointing at the experience of Brexit, Mr Macpherson states that an independent Scotland would need to "build and maintain good relationships with the UK Government"
He adds: "We will never be able to just cut all our ties with Westminster. So, whatever Scotland's constitutional future is, we will need to work with the UK Government and make compromises practically and sensibly for the common good.
"Therefore, in many ways, an evolutionary process for achieving more independence is almost unavoidable."
However, in another likely controversial intervention, Mr Macpherson also calls for the SNP to seek to work with the UK Government and Labour, should it win the next election, to reach an agreement for a "different, better, modern constitutional arrangement" for the "short-to-medium term".
Calling for the SNP to be "pro-active" in this effort, he adds the overall push for independence should slow down.
He states: "Better to go down a gear and take the journey at a reasonably safe speed, than crash trying to rush things."
Want to hear more from The Scotsman's politics team? Check out the latest episode of our political podcast, The Steamie.