SNP misconduct: 'Astonishing' that complaints against ministers will be made public if not upheld, SNP MSP says
An SNP MSP said it was "astonishing" and a violation of "natural justice" that ministers who see complaints about their behaviour not upheld will be named and shamed as part of a new complaints process.
Last week, the Scottish Government confirmed it would publish details about ministerial complaints made by civil servants. They pledged to publish the name and the outcome of any complaints, alongside a redacted version of the decision report if the complaint is upheld in full or partially.
The first figures will be published next month, though Deputy First Minister John Swinney said there would be nothing in the publication as there was nothing to report.
The change is a U-turn from the position of ministers up until now arguing the outcome of complaints made against ministers could not be made public due to GDPR concerns and the public interest favouring secrecy due to the potential impact of stopping complainants coming forward.
However, the outcome of former minister Fergus Ewing's complaint will remain secret for now. Mr Swinney confirmed there were no outstanding or ongoing complaints in the Scottish Government's systems.
Committee convener Kenneth Gibson, who has faced accusations of bullying and abusive behaviour himself, said he was concerned that naming ministers whose complaints were not upheld would be unfair. His wife, Patricia Gibson, an SNP MP, had a sexual harassment complaint initially upheld, but later thrown out on appeal due to technicalities.
Mr Gibson said publishing the details would leave a "murk" and see ministers "vilified" even if the complaint was not upheld, stating "that cannot possibly be fair in my view".
Mr Swinney said he had "wrestled" with the issue, adding: "There is a careful balance to be struck here, between the nature of a due process to be undertaken and the need for there to be transparency about the way these issues are being handled."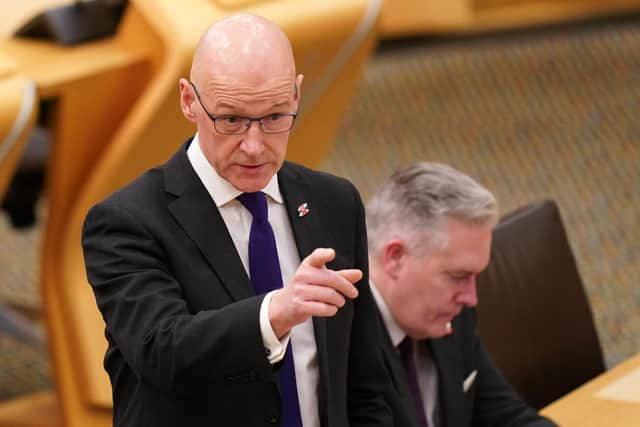 He said he was open to feedback on the matter from the committee.
Mr Swinney added: "These proposals mean that ministers past and present will work to a more transparent set of reporting principles for upholding standards of behaviour in public life. We will publish these figures for the first time in December after a short period of reflection on these changes with the committee, with staff, ministers and trade unions."
Want to hear more from The Scotsman's politics team? Check out the latest episode of our political podcast, The Steamie.
Comments
 0 comments
Want to join the conversation? Please or to comment on this article.