SNP MP cleared of bullying Nadine Dorries after liking tweets describing former Tory MP as 'grotesque'
The independent panel has cleared SNP MP John Nicholson after he liked tweets about outgoing Tory MP Nadine Dorries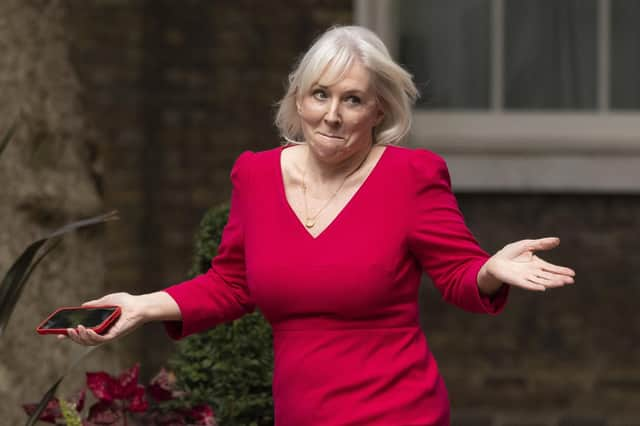 An SNP MP has been cleared of bullying Nadine Dorries after liking tweets describing her as "grotesque" and a "vacuous goon".
John Nicolson, MP for Ochil and South Perthshire, had appealed a ruling by the Parliamentary Standards Commissioner that his conduct on Twitter had amounted to bullying after a complaint by the former minister.
An independent panel sided with Mr Nicolson, saying Parliament's bullying policy "had to be interpreted so as not to preclude vigorous opposition to government, or vigorous defence of government policy and actions. Such is our political system".
The panel said the standards commissioner had been wrong to ignore Ms Dorries' own record of tweeting and the fact she had made previous "broad" complaints that had been rejected.
Ms Dorries' complaint related to a series of "disparaging" tweets Mr Nicolson, the SNP's culture spokesperson, had liked and retweeted following her appearance at the Commons digital, culture, media and sport committee in November 2021.
The former culture secretary made a formal complaint to Parliament's Independent Complaints and Grievance Scheme (ICGS) almost a year later, in October last year, alleging that liking these tweets amounted to bullying and harassment.
Although an initial investigation recommended clearing Mr Nicolson, standards commissioner Daniel Greenberg disagreed, saying he was "satisfied that Ms Dorries was 'left feeling vulnerable, upset, undermined, humiliated, denigrated or threatened' by Mr Nicolson's conduct" and had therefore been bullied.
Appealing against the decision, Mr Nicolson told the independent panel the complaint was "political and personal" rather than genuine, and arose from the fact he had been "effective in exposing the complainant's weakness as a minister and exposing problems with her own record, which might militate against her being accorded a peerage".
The panel found Mr Greenberg had not paid enough attention to the "highly charged political context" of the complaint or Ms Dorries' own record of tweeting, which had involved use of "strong language".
The panel also noted Ms Dorries had made no complaint at the time Mr Nicolson liked the disparaging tweets, or even after he raised a point of order in the Commons following a subsequent select committee appearance in which she wrongly claimed the subjects of a Channel 4 documentary had been actors.
Concluding Mr Nicolson had not bullied Ms Dorries, the panel said: "The Bullying and Harassment Policy must have been intended by Parliament to be interpreted so as not to impede or prevent proper opposition, or proper and vigorous defence of government policy.
"The context of this case is far removed from a case of a member alleged to have bullied a member of staff, or indeed from a case of behaviour between members in private, or simply as colleagues. As in so many cases, context is vital to understanding a case and applying these tests."
The panel did, however, note that liking and retweeting tweets were not "neutral" acts and Mr Nicolson had been "unwise" to do so with some of the tweets in question.
Ms Dorries tweeted she was "disappointed" by the panel's decision.
She said: "In any workplace other than Parliament where the rule of law, not privilege, applies, Nicholson (sic) would have been instantly dismissed."
Comments
 0 comments
Want to join the conversation? Please or to comment on this article.