SNP will rebrand and shift focus away from independence, predicts Michael Gove
"And to be fair to the SNP, they know that now. They know that they've overreached.
The UK Conservative minister said the SNP is "a bankrupt party running a broken government" and its case had been "blighted" by the scandal engulfing it. He suggested the Nationalists will rebrand themselves as "Scotland's Party".
Mr Gove made the comments during a fringe meeting at the Scottish Conservative conference in Glasgow, which finished on Saturday. He said there is now a "widespread acceptance" that it is more difficult for the SNP to make the case for independence.
Speaking to a Conservative Friends of the Union event, he said: "The case that the SNP makes, of course, has been blighted by one or two little local difficulties that they have had recently.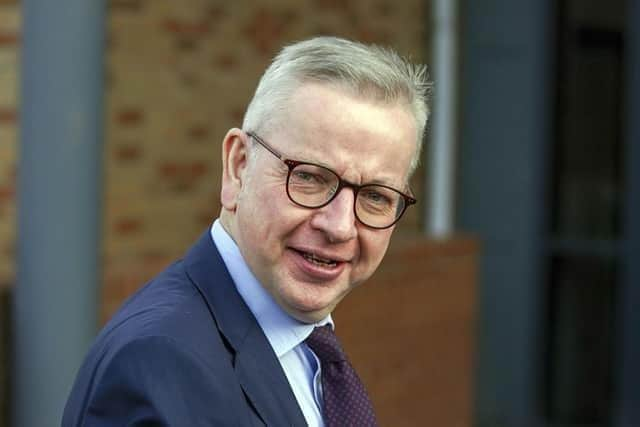 "I mentioned to the dinner I was speaking at last night that the SNP are having difficulty finding auditors to sign off their accounts. I said I could save them the trouble. They've run out of ideas, they've got no credibility left, they're a bankrupt party running a broken government – and that audit comes for free."
The SNP has been embroiled in controversy in recent weeks following the arrest of Peter Murrell, its former chief executive and Nicola Sturgeon's husband, as part of an ongoing police investigation into the party's finances. Mr Murrell was released without charge following around 11 hours of questioning.
Colin Beattie, the SNP's former treasurer, was also arrested and later released without charge. Meanwhile, the party is desperately searching for new auditors after the resignation of its long-standing firm more than six months ago.
Mr Gove, the UK Secretary of State for Levelling Up, told conference delegates: "There was a question often found on nationalists' lips recently, though they ask it a little less often these days, which was, 'Are you Yes yet?'
"Now what they were trying to suggest was there was an inevitable movement towards independence, and it was only a matter of time before folk recognised that, sooner or later, it was coming. That sense of inevitability has been checked."
Asked where he thought the SNP will go now, he said: "I think that for all of the reasons we well know, the SNP will change its approach for the moment. They have a base which of course they need to keep riled up and believing independence is just over the horizon.
"But at the same time, realistically, we know that the state of public opinion in Scotland is against any hasty referendum and is very much focused on improving the delivery of public services and strengthening the economy. Outside a few Yes bastions, and there are a diminishing number of them, people want to make sure that waiting lists go down, that we crack inflation, that schools improve.
"And to be fair to the SNP, they know that now. They know that they've overreached. And therefore, what I will suspect they will do, is they will rebrand themselves as Scotland's Party, fighting for more resources at Westminster and fighting to ensure that they deliver domestically in tune with Scottish values more broadly.
"And that creates a challenge for us, but also an opportunity. And the opportunity is to say, well, at Westminster, the people who are actually delivering most for Scotland are the Conservative Government and Scottish Conservative MPs."
Mr Gove said it is a "waste of time and money" for Humza Yousaf, the new First Minister, to have appointed a minister for independence. He said the SNP had failed to deliver on schools, hospitals and the economy, but the UK Government "is helping to ameliorate that failure and to improve things on the ground".
Speaking to journalists afterwards, Mr Gove said: "The SNP will always want to move the conversation back to independence and the constitution. That's its raison d'etre. But I think there's a widespread acceptance that the difficulties that they face at the moment, and the compromised record that they have on delivery, mean that it is more difficult for them to make that case."
Elsewhere, Mr Gove said he disagreed with Lord Frost, the Conservative peer and former lead Brexit negotiator, who suggested stripping Scotland of some devolved powers. Mr Gove said: "David's a friend and I enjoyed working with him in Government, but I think he's wrong about that."
His comments come after a BBC report, quoting party sources, said the SNP was focusing on increasing support for independence before pushing for another vote.
Mr Gove also praised one of the SNP's leading internal critics, MSP Fergus Ewing, and former leadership candidate Kate Forbes. He said he had a "soft spot" for Mr Ewing, who has been vocal in his opposition of a number of recent Scottish Government policies and particularly critical of the alliance with the Scottish Greens.
He praised Ms Forbes for the way she was able to work with the UK Government during her time as finance secretary.
The SNP has been approached for comment.
Comments
 0 comments
Want to join the conversation? Please or to comment on this article.