In detailed guidance published outlining three possible scenarios for senior pupils' exam diet this year, the SQA said if public health measures do not allow exams to go ahead at all, grades would be based on teacher estimates.
Under the worst-case scenario, it is also likely direct appeals, where pupils can raise a dispute about their assigned grade themselves, would continue.
This measure was brought in for the first time last year, with appeals in previous years having to be raised by schools.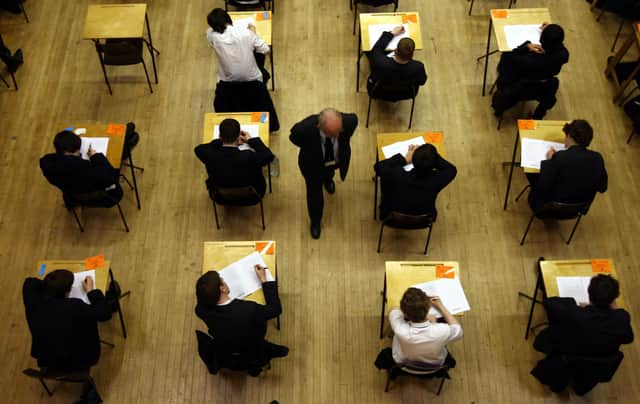 Scenario one will see exams go ahead as normal, albeit with some modifications put in place last year such as reduced course content and less assessment. Scenario two – if there is "increased disruption" due to the pandemic – will see a focus on learning and teaching, as well as "additional support measures".
The third option, which will only take place if students cannot attend exams due to a ban on gatherings such as a lockdown, will see exams cancelled entirely and no additional assessments put in place.
It is understood any decision will be made on a Scotland-wide basis.
Scottish Liberal Democrats education spokesperson Willie Rennie said: "The SQA have botched two years of assessments and now they are laying the groundwork to botch a third.
"Teachers are being told that it is still possible that exams could be cancelled and that they should prepare for that possibility, but that they won't receive the guidance for this until October, months after the start of the school year. This just repeats the mistakes of the last two years."
He added: "It's time for new leadership at the SQA. The same people who led the organisation which let down young people over and over again simply cannot be the ones to preside over a period of reform."
Scottish Conservative shadow education secretary Oliver Mundell said: "History has taught us to be sceptical of guidance coming from the SQA and SNP Government.
"After a shambolic two years of upheaval to their education, many young people will understandably feel unconvinced by the SQA's plans. It is essential that pupils have confidence that their exams will go ahead. Any contingency planning that will cause disruption to exams should be used only as a last resort."
Michael Marra, education spokesman for Scottish Labour, said he had submitted an urgent question to the Scottish Parliament to clarify the plans.
He said: "Once again we have the SQA publishing a two-page press release disguised as guidance which raises more questions than it answers. These scenarios give teachers, families and young people no clarity over this academic year."
The Scottish Government is to scrap the SQA and reform Education Scotland following a report into Scotland's education system by the OECD earlier this year.
Fiona Robertson, SQA chief executive and Scotland's chief examining officer said, "SQA remains committed to delivering for Scotland's learners and supporting their teachers and lecturers. These measures, developed in consultation with the Scottish education system, will ensure the safe delivery of national courses this year."
A message from the Editor:
Thank you for reading this article. We're more reliant on your support than ever as the shift in consumer habits brought about by Coronavirus impacts our advertisers.
If you haven't already, please consider supporting our trusted, fact-checked journalism by taking out a digital subscription.