Neil Coyle, the Bermondsey and Old Southwark MP, faced a complaint following an incident at Labour party conference in 2019, where was accused of propositioning a woman more than a decade his junior.
She claimed he made rude comments belittling her then partner, asking "he's not your fella, is he?" and then demanding to know if she was "going back with me or him tonight then?".
After a complaint was made to the Labour party in February last year, the matter was then resolved the same year. A panel of the Independent Complaints Board found his behaviour was "grossly detrimental to the party" and upheld an allegation Mr Coyle had breached the Code of Conduct on sexual harassment.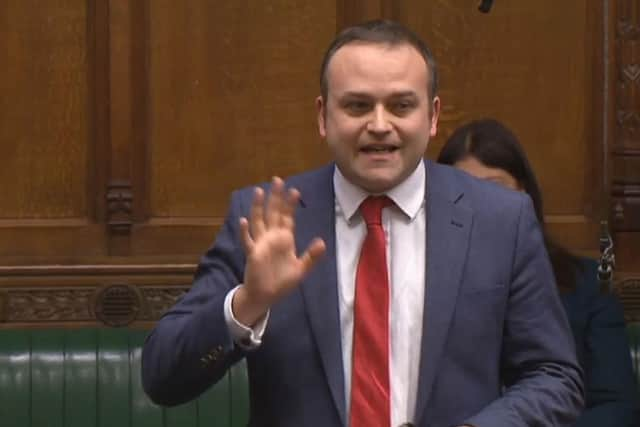 Mr Coyle, now sitting as an independent due to suspension, was given a formal warning, with the complaint then laying on his file for a year.
The woman filed the complaint following reports Mr Coyle made allegedly Sinophobic remarks to a journalist, seeing him suspended by Labour and banned from Parliament's bars for six months.
Mr Coyle separately faces a five-day suspension after using "abusive language with racial overtones" towards a journalist during one of two drunken confrontations in a Commons bar.
The Independent Expert Panel made the recommendation after finding he breached Parliament's bullying and harassment policy during the two encounters after "excessive" drinking.
One was the "foul-mouthed and drunken abuse" of another MP's assistant and the other was the abuse of political journalist Henry Dyer. Both incidents investigated under Parliament's Independent Complaints and Grievance Scheme (ICGS) occurred in the Strangers' Bar in the Commons.
Mr Coyle, who has spoken about quitting alcohol for a year and has pleaded for Labour leader Sir Keir Starmer to readmit him to the parliamentary party, accepted he was "drunk" on both occasions.
In an apology in the Commons on Friday, Mr Coyle said he was "ashamed" of his behaviour and said the intervention had "quite possibly saved my life" by compelling him to stop drinking.
Speaking to The Scotsman on the earlier sexual harassment complaint, the complainant said Labour's response was nowhere near enough.
She said: "Throughout the course of the night that it happened, I felt increasingly uncomfortable. His behaviour was diminishing my value as a professional, my right to be there, and made me feel like more of a sex object.
"When it escalated, I felt really, really scared. I didn't know what it meant for me personally, I didn't know what it meant for my career, and I knew that I was going to have to keep interacting with him. He was in a much more powerful position than me and it was his word against mine.
"The way he behaved towards my partner at the time was so disrespectful and degrading to both of us … I just remember going back to the hotel and just crying."
She said despite then trying to avoid Coyle, doing so was "untenable" due to her work.
"I had to keep going back to him, and talking to him for various different work things, and every time I did it felt like I was excusing his behaviour," she said. "He was more powerful than me, but I needed to talk to him for work."
Choosing to speak anonymously, she also revealed the situation coloured her view of Westminster going forward and made her feel unsafe with other MPs.
"He was older, he was married," she said. "I had a partner, which he knew, and he was in such a senior position to me, but because I was so early in my career it felt like he regarded me as easy pickings.
"Every time I was interacting with male MPs it made me really scared of what was going to happen. What did they think of me? The drinking culture is so extreme in Westminster it often felt unsafe."
On the extent of Coyle's punishment from the Labour party, the complainant said: "It was so disappointing. The idea that it was only going to be kept on his formal record for a year, it should at least be indefinite. I don't think he should be an MP at all. The party and the system needs to have a much stronger stance on MPs who are found to have bullied or harassed people.
"To be an MP is one of the greatest privileges of your life, but every time someone is found to have done something like this they are allowed to keep their job. What does it say about what we think about the safety of other people who work in Parliament?
"I was told that he would remain suspended from the Labour party pending other investigations, but if he was to regain the whip now after everything Labour knows about him, it would show Labour don't really care about women or safety."
It is understood Mr Coyle remains administratively suspended from Labour. In 2017, the party commissioned Karon Monaghan QC to investigate and prepare a report into the Labour Party's handling of sexual harassment complaints.
Following Sir Keir Starmer becoming Labour leader, that report's recommendations were acted upon – they were accepted in full, with an overhaul of the party's sexual harassment procedures and its code of conduct on sexual harassment and gender discrimination.
Any complaints relating to sexual harassment are investigated independently by external professionals, with expertise in equalities law and subsequently heard and determined by the newly introduced Independent Complaints Board.
Mr Coyle has been approached for comment.