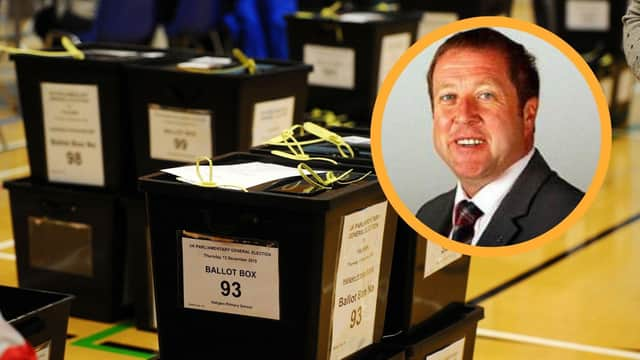 As parties have not been leafleting or campaigning door-to-door as a result of lockdown, the Parliamentary Business Minister Graeme Dey announced that alternatives to face-to-face campaigning which can be employed.
The Scottish General Election (Coronavirus) Act ensures the ability to postpone the election if required, however, Graeme Dey said today that this 'does not seem necessary at present' for the Holyrood election 2021.
Following on from this, he announced the 'Dos and Don'ts' of party campaigning for the election during the pandemic which have been outlined below.
Definite 'No'
Activities such as street stalls and physical hustings and giving voters a lift to polling stations cannot proceed during the election process.
Mr Dey said: "These limitations have been discussed in recent weeks with the business managers of all parties and I believe all parties are supportive of them."
Constituency travelling
Under the stay at home regulations, it is permitted for candidates and agents to travel to their constituency as necessary- "as this is work or volunteering which cannot be done from home", the Minister commented.
Officers are currently looking at whether the leadership of each party should be able to travel to any given constituency. Mr Dey said: "That is something we are looking at, although we should bear in mind that the regulations currently prevent all of us from leaving home and travelling between local authorities, for work that can be done from home."
Leafleting
In line with the plan for gradual easing of current measures, leafleting can commence from 15 March, subject to the restrictions on social gatherings in Level 4 areas easing to allow up to 4 people from 2 different households to meet outdoors.
During this, candidates and campaigners will need to strictly follow measures such as physical distancing, wearing face masks where appropriate, ensuring hand hygiene and not car sharing.
Guidance will also be issued on safe arrangements for liaising with volunteers and minimising the handling of materials.
Face-to-face campaigning
The minister announced that face-to-face campaigning can be permitted from April 5 subject to the virus being "sufficiently suppressed."
In his statement, Mr Dey said: "I recognise that there is an appetite for it to be permitted in due course.
"And in light of discussion with clinical advisers and providing the stay at home restrictions are able to be lifted, face-to-face doorstep campaigning can be permitted from 5 April subject to the virus being sufficiently suppressed."
Mr Dey went on to say: "Careful consideration has been given to the role of canvassing during an ongoing pandemic, the risks associated with it, where allowing doorstep campaigning would sit with other non-election restrictions and how the public might react to having political campaigners at their door."
That decision to allow campaigning by April 5 will be based on whether the infection rate as an average across Scotland has fallen to 50 per 100,000 or less – the number which the WHO considers as evidence that the pandemic is sufficiently under control and, alongside this, test positive numbers sit below 5%.
Mr Dey said that if the infection rate in a specific council area exceeded 100 per 100,000 then canvassing would have to be suspended for safety reasons in that specific local authority until the rate fell below that number.
Currently, the cumulative seven day incidence per 100,000 of the population by specimen date to 27 February is 79.6 and the latest 7 day average test positivity rate is 3.9%
Once the restrictions permit, Mr Dey said it will be "a judgement call" for parties as to whether they should pursue face-to-face campaigning, whether it will be welcomed by the public and in what type of specific locality.
He added: "They also need to be conscious of striking the right balance between ensuring only one person approaches a doorstep, but providing reassurance for canvassers in having a colleague close by for safety.
"The numbers of people who can be together at any one point must be in line with the broader restrictions on social interaction that are in place at the time."
Additional information surrounding the election
Anyone can apply for a postal vote before the 6 April deadline and those who find themselves unable to vote in person due to coronavirus advice can apply for a proxy to be appointed up until 5pm on polling day.
Electoral Commission research suggests there may be an increase in postal voting from 17% of the electorate up to around 40%, and Mr Dey commented that the Scottish Government has made resources available to allow Electoral Registration Officers to deal with this level of increase and "a little" beyond that.
The minister also commented that officers are taking steps to ensure that polling places are safe environments, with physical distancing, face masks, one-way systems and enhanced cleaning arrangements. No more than 800 electors are to be allocated to a single polling station
The minister announced that vote counting should occur in the daytime.
In relation to the count, the Minister commented that it seems "inevitable" the results of the election will take longer to arrive.
Mr Dey said: "Ensuring physical distancing whilst also allowing the process to be scrutinised means that not all constituencies will be counted simultaneously.
"It is expected that most counting will occur over the Friday and the Saturday following polling day."
"Returning Officers will be talking to candidates locally about arrangements and those discussions are important to achieve a shared understanding of what will happen in practice."
A message from the Editor:Thank you for reading this article. We're more reliant on your support than ever as the shift in consumer habits brought about by Coronavirus impacts our advertisers.
If you haven't already, please consider supporting our trusted, fact-checked journalism by taking out a digital subscription.