Three-fold jump in medical negligence settlement bill paid out by Scottish Government
It is the highest figure across Nicola Sturgeon's tenure as First Minister and Humza Yousaf's time as health secretary.
Minister paid out just under £60m in medical negligence settlements in the last financial year as critics said the figure was a "warning sign" of the pressures facing the NHS.
The bill to taxpayers was set out in the government's consolidated accounts, published last week, which showed a three-fold increase from last year when £20m was paid out.
Medical negligence claims have significantly increased during Nicola Sturgeon and Humza Yousaf's tenures as First Minister from £10m in 2014/15 to £59m in the last financial year.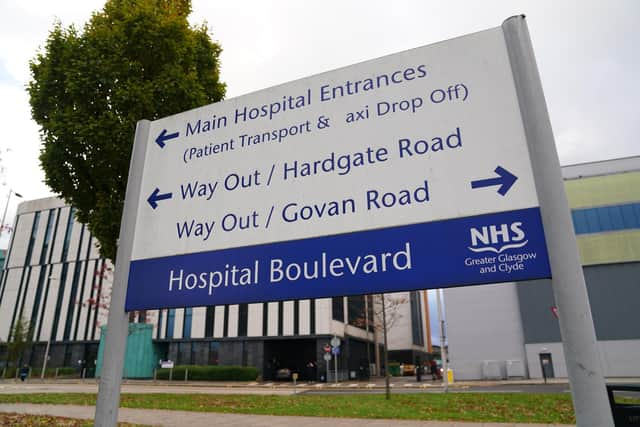 During this period, the next highest amount paid out was £41m in 2015/16, with the lowest being £5m in 2019/2020.
In total, over the entire duration of Ms Sturgeon's time in Bute House and Mr Yousaf's tenure as health secretary, the taxpayer has paid out £270m, with almost half (£116m) being paid out following the Covid-19 pandemic.
The significant jump in medical negligence settlements comes as the First Minister faces fresh calls to remove the chief executives of NHS Greater Glasgow and Clyde after the health board was named as a suspect in the criminal investigation into the deaths of a number of patients at Queen Elizabeth University Hospital.
Among those affected was 10-year-old Milly Main, who died in 2017 after contracting an infection at the Royal Hospital for Children's cancer ward on the campus of the QEUH in Glasgow.
Dame Jackie Baillie, Scottish Labour's health spokesperson, said the rising costs were a "warning sign" for the NHS as it faces "dangerous pressure".
She said: "Not only are patients being put at risk by this spiralling crisis, but these costs will drain vital resources from the health service when it can least afford it.
"NHS workers and professional bodies have been sounding the alarm for years that staffing shortages and growing pressure is putting patient safety at risk.
"Staff are going above and beyond to try keep patients safe, but they are being asked to do an increasingly impossible job.
"The SNP must come clean on the reason for this spike and act to ensure that patients are safe and staff are supported."
Health spokesperson for the Scottish Conservatives, Dr Sandesh Gulhane, said mistakes were "more likely to occur" when they face "cuts or dire workforce planning".
"The alarming surge in criminal and medical compensation pay-outs is surely no coincidence – but a symptom of our key public services being over-stretched and under-resourced by the SNP government," he said.
"While those who have suffered as a result of negligence deserve to be compensated, the last thing our cash-strapped NHS can afford is increasing pay-outs.
"The buck stops with SNP ministers for this ultimate false economy in our public services."
Scottish Liberal Democrat leader, Alex Cole-Hamilton added: "When the Scottish Government's finances are under pressure like never before, it's important that value for money is squeezed from every penny.
"The Government will need to explain why the amount paid out has tripled and what steps have been taken to ensure that any future rises are kept to a minimum."
A Scottish Government spokesperson said: "We sympathise with any patient whose treatment has failed to reach the standards we all expect from our health system.
"In instances when things do go wrong, we expect NHS Boards to fulfil their statutory duty to be open with patients about what happened and to learn lessons to prevent it happening again.
"These cases can take a number of years to settle so there will be fluctuations in compensation payments from year to year.
"Our commitment to openness, transparency and learning has been, and remains, key to delivering healthcare throughout Scotland."
Comments
 0 comments
Want to join the conversation? Please or to comment on this article.