Race-related hate crime remains the most prevalent type of hate crime recorded by police, making up almost two-thirds of the total number of crimes. In total, almost 7,000 crimes were recorded in 2021/22, with 6,927 incidents in total – the highest since 2014/15 when 7,029 were recorded by police.
The report examined hate crimes, which covers any crime that is perceived by the victim or any other person, to be motivated (wholly or partly) by malice and ill-will towards a social group. Aggravators covered by the report include race, disability, religion, sexual orientation and transgender identity.
Not all hate-related incidents which come to the attention of the police will necessarily mean a criminal offence has taken place, though the majority do fit that criteria, the report states.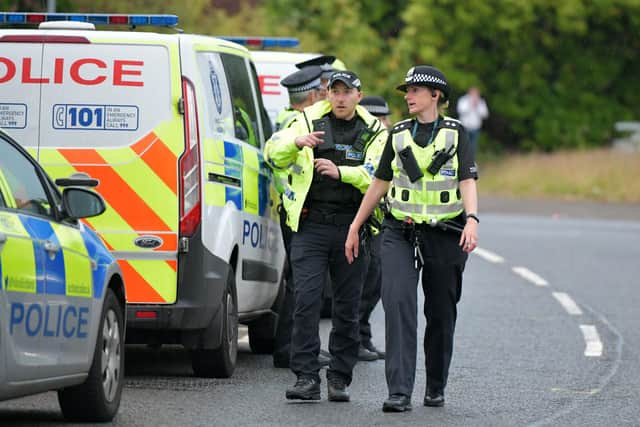 Hate crimes where the aggravator was transgender identity have seen the steepest increase both in the last year and since 2014/15 when the data begins.
They have risen 68 per cent between 2020/21 and 2021/22, from 110 to 185 incidents, and are the most likely to come from online sources, with more of a quarter (27 per cent) being "cyber-enabled".
This has occurred at the same time as the debate around the Scottish Government's Gender Recognition Reform Bill, but the report does not make a direct link.
Maggie Chapman, the Scottish Green's equalities spokesperson, said the rise in transgender aggravated hate crime was "fuelled by a cynical campaign of vicious lies and smears".
She said: "We should all be angry about the appalling increase in transphobic incidents in Scotland. This awful rise must also not be viewed out of context. It has been fuelled by a cynical campaign of vicious lies and smears spread about our trans siblings.
"Much of it has been whipped-up and encouraged by powerful voices, such as those with significant public platforms and those in the UK Government who want to distract from their own failings. "
Scottish Conservative equalities spokesperson, Rachael Hamilton, accused Ms Chapman of making some of the "most inflammatory and divisive language" during the debate around gender reform.
She said: "No-one should ever be targeted or attacked for their gender identity, and this rise in hate crimes against transgender people is appalling.
"However the idea that this has been 'whipped up' by the UK Government is malicious, unfounded and untrue. While the debate about the SNP's Gender Recognition Reforms has evoked strong feelings on both sides, the UK Government and the Scottish Conservatives have used sensitive and respectful language throughout.
"By contrast, it has been a minority of supporters of this bill – such as Maggie Chapman – who have used some of the most inflammatory and divisive language when discussing this sensitive issue.
"We have always been clear that trans people deserve support, respect and recognition – but this must not come at the expense of the rights and safety of women and girls."
Since 2014/15, the number of hate crimes against transgender people have almost quadrupled, from 53 to 185.
This is also the steepest rise, with disability-related hate crimes more than doubling in that time from 260 to 552. Disability-related hate crime also saw a steep increase in 2021/22, up 26 per cent in a year from 435 to 552 crimes.
Hate crimes based on sexual orientation are the second most prevalent, and have risen by almost two thirds (67 per cent) in seven years, with a 10 per cent rise from 1,683 to 1,855.
Religion-based hate crime has dropped from 578 to 478 in a year – a fall of 17 per cent – and has declined by 29 per cent since 2014/15 when there were 682 hate crimes with that aggravator.
Race aggravated hate crime remains the most prevalent in Scotland. However, there has been a steady decline in this type of hate crime over the past seven years, down 17 per cent from almost 5,200 to just over 4,200.
These types of crime also decreased by a percentage point in the last year, down from 4,316 to 4,263.
Justice secretary Keith Brown said: "Today's figures are a reminder we must work to tackle hatred and confront prejudice wherever it occurs. We unequivocally condemn any form of hate crime, which has no place in Scotland."
Want to hear more from The Scotsman's politics team? Check out the latest episode of our political podcast, The Steamie.