The Prime Minister insisted Britain would "have to" use hydrocarbons for decades to come after being quizzed on support by Scottish Tory leader Douglas Ross.
It came as Scottish energy secretary Michael Matheson claimed North Sea oil and gas production would "effectively end" in the next 20 years.
Speaking at Prime Minister's Questions, Mr Ross said: "Yesterday Nicola Sturgeon's SNP Government published plans calling for as fast as possible a shutdown of the industry and an end to new exploration.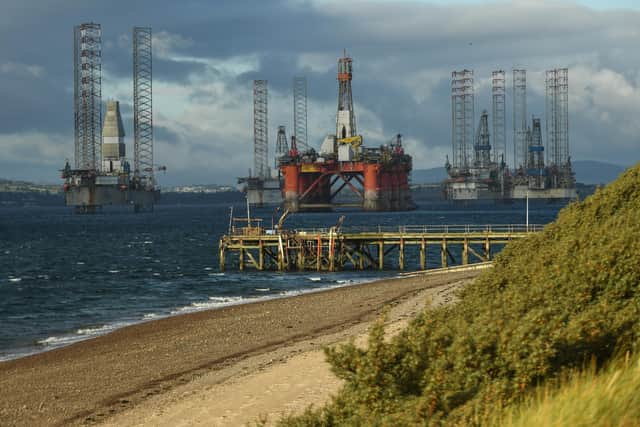 "These plans are naive and reckless, and were previously described by [an] SNP leader in this House as crazy."
Responding, Mr Sunak said: "We know that we will have to rely on hydrocarbons for decades to come as we transition to net zero.
"Consuming oil and gas from the North Sea means less than half the carbon footprint of importing that same oil and gas, which obviously makes sense to do it here and in the process support tens of thousands of jobs in Scotland. I can reassure him that the Scottish oil and gas industry has this Government's wholehearted support."
The new strategy includes plans to substantially increase renewable electricity generation capacity, with an additional 20 gigawatts (GW) by 2030, which could produce the equivalent of nearly 50 per cent of current demand.
The Prime Minister's comments were welcomed after the session by Mr Ross, who accused the SNP of "doubling down on its decision to abandon industry".
He said: "Nicola Sturgeon's reckless pandering to her Green coalition partners would put tens of thousands of jobs at risk in the North East and imperil our energy security at a time of huge global uncertainty.
"The SNP's Westminster leader Stephen Flynn must now come clean on whether he backs the First Minister's stance or his Aberdeen South constituents, whose livelihoods she'd gladly sell down the river. Because he can't do both."
Mr Matheson was later asked about Mr Sunak's comments during a briefing for journalists in Aberdeen. He said the North Sea was a mature basin that would go into decline "quite significantly over the course of the next 20 years".
The senior Scottish minister explained: "It would be a serious failure of government if we did not acknowledge that and put in place a plan in order to address the consequences of that.
"And that plan is about ramping up the deployment of our renewable energy provision, which we are blessed with having a significant capability for here in Scotland, across a whole range of different types of energy source, while at the same time also taking forward ongoing plans to reduce energy demand and also our need for fossil fuels."
Mr Matheson said there needed to be a "managed transition" within the sector. He said there would continue to be a requirement "for a level of hydrocarbons", but this would decline and could be managed through new technologies, such as carbon capture and storage.
The same PMQs session saw Mr Flynn clash with Mr Sunak, saying Scotland's membership of the UK union "simply doesn't add up.
He said: "The longest and deepest recession in the entire G7, Brexit, 13 years of Tory rule, the energy price crisis, inflation and interest rates.
"If the people of Scotland are to do the maths as the Prime Minister so hopes, will they not come to the conclusion that this union simply doesn't add up?"
The Prime Minister replied: "I'm pleased the honourable gentleman brought up energy and he's right to do that, because energy, when it comes to the economy, is incredibly important to Scotland, and actually Scotland will play a fantastic part in helping us transition to net zero.
"What we do now know is that the Scottish Government don't want to support the Scottish energy industry and the 200,000 jobs that it produces.
"I'm keen to work with the Scottish Government to support the North Sea because it's something that we're all very proud of in the UK."