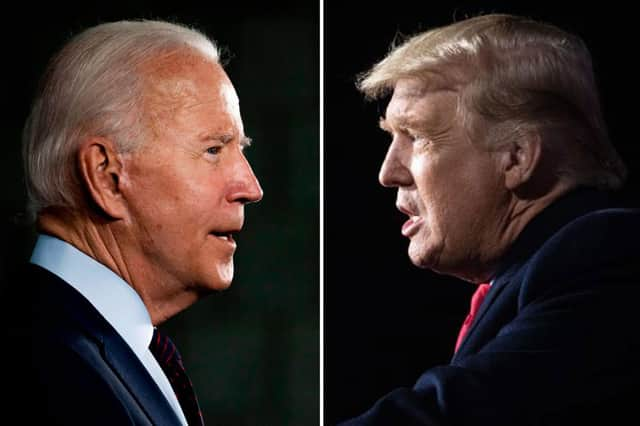 With the coronavirus crisis so far claiming more than 200,000 lives and millions of jobs in the country, passions in both President Donald Trump and Democratic candidate and former Vice President Joe Biden's camps are running high.
So how has the race for the White House panned out as the campaign has progressed and Covid-19 pandemic has swept across the nation?
We have analysed the results of 27 major US polls collected by news site and polling aggregator Real Clear Politics, to track the popularity of the two candidates throughout 2020.
What's the situation now?
As of October 28th, with just six days to go until voting stations close, challenger Joe Biden had a sizeable eight-point lead on President Trump, with 51% and 43% of the vote share respectively.
The figures represent the median 10-day average, which is the middle point of the scores each candidate got in individual polls over the previous 10 days.
One poll carried out by the Economist and YouGov between October 25th and 27th had placed Biden a whopping 11 points ahead of Trump, with 54% to his 43%
But on the more conservative end of the spectrum, polling company Rasmussen Reports found Biden's support was at 48% between October 26th and 28th – just one point clear of the president's 47%.
How have the polls changed throughout the campaign?
Trump's polling peak came way back on February 8th, when his 10-day average briefly reached 48%.
Since then, the incumbent president has struggled to keep his ratings out of the low 40s – he has only reached 45% on 21 out of the last 284 days.
Biden on the other hand has enjoyed average polling as high as 53% (March 7th), with support for the 77-year-old Democratic candidate remaining at or above 50% for the last 32 days straight.
The gap between the two was at its widest in late June and mid-July, reaching 10.5 percentage points.
At no point has Trump been ahead of Biden – or even neck and neck with him.
Our chart tracks the rolling 10-day average across the polls monitored by Real Clear Politics since January.
Should we trust the polls?
Mr Biden's comfortable lead may come as little comfort to Democrats for whom the shock defeat of Hillary Clinton in 2016's election is still fresh in their memories.
Mrs Clinton won nearly three million more votes than Donald Trump but still lost the election thanks to the electoral college system, which means a candidate could triumph by winning a small number of key states
She had also led Mr Trump in the polls, with pollsters later recognising their models may have underestimated one of Trump's key demographics – non-college educated white voters.
So while from the polls it may appear the election is in the bag for Biden, it is still all to play for.