That is true across the regions and nations of our United Kingdom, just as it is with our alliances in Nato and around the world. This week in Glasgow we will be talking about Labour's commitment to defence and security, and how it's strengthened by the values that shape our Union.
Russia's illegal invasion of Ukraine has proven the value of international cooperation and allies. The UK and other Nato nations have stood together in supporting Ukraine and confronting Russian aggression. Labour's commitment to Nato is unshakeable, while that of the SNP and Greens has long been in doubt.
In government, our Nato test will ensure we meet our obligations to the alliance in full. Labour will also seek a new defence and security pact with the EU, as part of rebuilding relationships damaged by reckless Tory ministers over the past decade.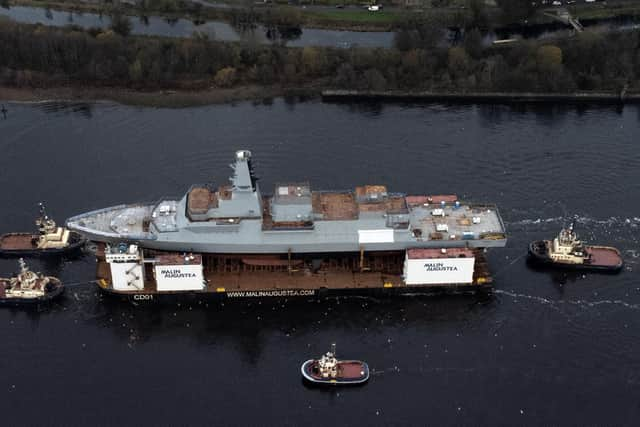 Scotland continues to play a central role in the defence of the UK and the delivery of our Nato commitments, especially as threats increase in the High North. RAF fast jets and P-8 submarine hunters at Lossiemouth are vital to protecting the skies and seas. This week we are visiting Faslane, home to the UK's entire submarine service and Scotland's second largest single-site employer. Scotland's world-class shipyards have built 13 Royal Navy ships in the past 15 years, including our aircraft carriers.
Labour recognises Scotland's shipyards and supply chain companies strengthen our UK economy, supporting Scottish jobs, and our sovereignty. Labour in government will boost Scotland's proud history of shipbuilding by directing UK defence investment first to UK industry, with a higher bar set for buying abroad. This mission is not just about how we best defend our country, but the better society we want to build.
Across our union, we are a Party with deep respect for the men and women of our armed forces. Theirs is the ultimate public service. They defend the country and they're essential to our resilience at home.
The 10,000 UK personnel based in Scotland serve with dedication, both on military duties and on back-up to essential public services during crises, like the pandemic. Despite threats to the UK increasing, ministers plan to make further cuts to the size of the armed forces and more people are leaving than joining.
Satisfaction with service life has plunged below half and, when four in ten Scottish personnel are living in the worst military accommodation, plagued by problems with heating and hot water, it isn't hard to see why. For Labour, strong defence abroad begins at home. We will renew the nation's moral contract with those who serve, and deliver homes fit for heroes.
Like the Tories, the SNP have talked a lot and changed little for UK veterans. Service charities tell us first hand that identifying veterans in our communities is critical to connecting them to the services they need. Yet the SNP Government is yet to publish census data that would help with this. In 2019 Conservative ministers promised every veteran an ID card to give them speedy access to health, housing and charity services. However, four in five Scottish veterans have still not received one. Labour will put the Armed Forces Covenant fully into law to end the postcode lottery on veteran support.
The defence of our nation and the strength of Nato have a renewed importance in uncertain times. Only Labour can strengthen the common values of diplomacy, service and industry that help bind our Union. Together, we can be secure at home and rebuild relations with global allies to meet the challenges of an increasingly polarised world.