Why Scottish Government must get involved in transport review - Iain Stewart
Whether you are a motorist, bus passenger, train commuter, frequent flier, ferry passenger, take a tram, cycle or rely on Shank's pony – we, all of us, have a stake in transport.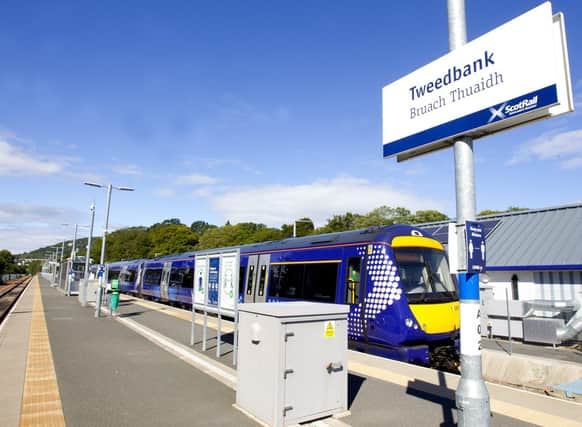 And everything we buy and consume reaches us via some form of boat, plane, train or road transportation. And in today's global marketplace, freight increasingly moves via multiple methods.
That's why the UK Government has embarked on a comprehensive review of transport infrastructure right across the UK, to build a comprehensive picture of the state of the nation's vital linkages, enabling us to look at where and how they could be improved.
This is integral to our efforts to fuel the UK's recovery and build back better from the Covid-19 pandemic.
It is incredibly disappointing that the Scottish Government have refused to engage in the review and blocked officials from Transport Scotland from taking part. This is not only petty politics, but could prevent billions of pounds of investment and jobs reaching Scotland.
Therefore it's crucial that local authorities here in Scotland get involved with our Union Connectivity Review.
I have written to council chiefs across Scotland encouraging them to get aboard, joining industry experts, academics, engineering experts and the general public to contribute to this important piece of work.
Local authority chief executives are uniquely placed to highlight the good and the bad; to tell us what works; what needs attention; what innovations and investment are needed. In short, they know what their communities and businesses need from their transport links and infrastructure.
Review chair Sir Peter Hendy CBE is galvanising this work, consulting widely to consider how improved transport can help to boost the economy and improve connectivity between communities.
Bringing a wealth of experience to the role, with over 45 years working in the transport sector, the UK Government is ready and willing to listen to the findings of Sir Peter's review.
But time is tight. Sir Peter will issue an interim report in the new year, with a series of final recommendations to follow in the summer.
His review is part of efforts by the UK Government to level up communities across the country.
As Sir Peter said himself: "The UK Government has set out its commitment to levelling up by addressing the causes of regional inequality across the UK. Transport alone cannot resolve these issues, but it is the most effective enabler of an effective growth strategy.
"The ability to move people and goods across the country is vital to the success of business, the growth of regional economies and for people to access jobs, housing, education and health services. Good transport connections are needed to ensure that regions across the UK are able to maximise their potential."
Crucial, then, to this independent review, is co-operation with the devolved administrations across the country, so we can compile that complete vision of the UK's road, rail, sea and air links and assess the quality of transport infrastructure between Scotland, England, Wales and Northern Ireland.
Indeed, huge opportunities are on offer right across the UK. The review will look at possible future transport projects, including the high speed rail links between England and Scotland, improving roads such as the A1 and A75 and the possibility of a new fixed link between Scotland and Northern Ireland.
The UK Government has also committed to bringing forward funding to accelerate infrastructure projects in Scotland, Wales and Northern Ireland and now we want to identify 'shovel-ready' projects which can rapidly build up our communities and create jobs.
That's why the involvement of local authorities is so important. They, with their expert knowledge of their area, can quickly identify projects that could be expedited, and we want to hear about them.
We have before us the opportunity to deliver transport infrastructure that links the UK as a whole better than ever before. It can be better for the communities it binds and better for the businesses who can help make state-of-the-art infrastructure a highway to a brighter economic future for us all.
- Iain Stewart is Under-Secretary of State for Scotland and a British Conservative Party politician.
Comments
 0 comments
Want to join the conversation? Please or to comment on this article.