'Sudden mechanical failure' believed to have caused Pentland Ferries MV Pentalina grounding in Orkney which triggered lifeboat evacuation of 60 passengers
A ferry which ran aground in Orkney triggering the lifeboat evacuation of its 60 passengers is believed to have suffered a "sudden mechanical failure", the Maritime and Coastguard Agency (MCA) said on Sunday.
The incident on Saturday evening happened three days after Pentalina returned to service on Pentland Ferries' Caithness-Orkney route – and 11 days after the MCA issued it a safety certificate to carry passengers following refit work in Belfast.
Pentland Ferries said smoke was detected in Pentalina's engine room before it grounded, shortly before reaching its dock at St Margaret's Hope, while there was also a "minor ingress of water". The RNLI's Longhope lifeboat was called to the scene at 7.45pm and safely rescued the passengers, including three children and a baby.
An MCA spokesperson said: "The MCA, in conjunction with the vessel's Classification Society, completed surveys on Pentalina on April 18 and issued a Passenger Ship Safety Certificate. At this time, the vessel met the standards required for issue of this certificate.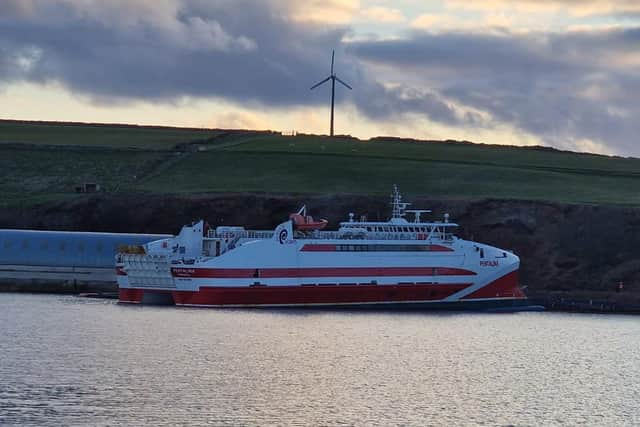 "Surveyors from the MCA will be attending the vessel today in St Margaret's Hope to undertake initial fact-finding to establish the cause and circumstances surrounding the incident."While the facts haven't been established yet, initial reports from the operator point to the cause of the grounding being a sudden mechanical failure."
Orkney-based Dr Alf Baird, a former director of the Maritime Transport Research Group at Edinburgh Napier University, said: "Early indications are damage is not significant.
"I expect she may head to drydock for inspection and repair, if that is deemed necessary. If that is the case, she could be out of service for a couple of weeks."
Pentalina has been largely laid up over the last four years, although it was put back on the route last year after Alfred, a new ferry which replaced it on the service, ran aground in July.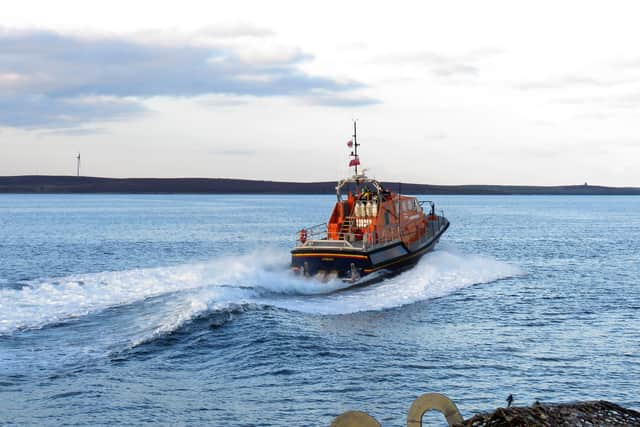 Pentalina returned again to the route last week when Alfred was redeployed to start a nine-month charter with CalMac to provide an extra vessel to cover for its own ferries when they are out of service.
This happened nine days late after Pentalina's passenger certificate was issued by the MCA four days later than expected "due to some small outstanding items", according to CalMac.
The west coast operator said berthing trials at various ports including Lochmaddy and Ullapool had gone "really well" and were due to continue until midweek before it was decided how Alfred should be deployed.
Pentland Ferries said it had no other vessels available and was still "working through what's happened".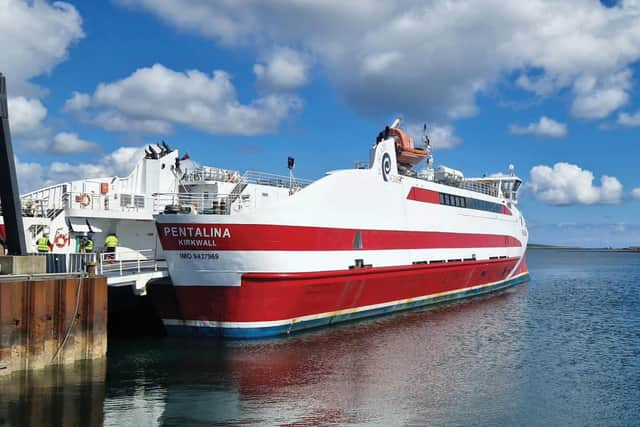 Managing director Helen Inkster said: "The vessel is undergoing a survey, from which we will know what, if any, damage has been sustained. Only when we know the extent of the problem, can we formulate a plan to resume service."
It is not known whether the operator will seek to recall Alfred to Orkney to cover for Pentalina while it is out of service.
NorthLink, which also runs ferries between Caithness and Orkney, said its services were operating as normal.
The MCA spokesperson added: "The MV Pentalina was refloated at approx 5.30am after a tow was established by a tug whose services were acquired by Pentland Ferries.
"The Pentalina was brought alongside its berth in St Margaret's Hope a short while later. HM Coastguard's emergency towing vessel MV Ievoli Black observed the operation, alongside counter pollution officers, and reported that there were no signs of pollution.
"The vessel will be surveyed later today to establish the extent of any damage while the harbour master will continue to monitor for pollution."
A spokesperson for the UK Department for Transport's marine accident investigation branch (MAIB) said: "The MAIB will be deploying a team of investigators to conduct a preliminary assessment." The MAIB said the grounding of Alfred last year remained "under investigation".
Mary Harris, a spokesperson for the RNLI Longhope lifeboat, said it was "tasked by the Coastguard to attend the Pentalina which needed assistance just outside the port of St. Margaret's Hope.
"The lifeboat left Longhope pier at 7.45pm and was shortly alongside the ferry, which due to an unknown fault, had run aground. The volunteer crew quickly and calmly transferred all the 59 passengers including three children, one infant and half a dozen dogs, from the ferry to the lifeboat and then safely ashore."
A Scottish Government spokesperson said: "Ministers were quickly made aware of the incident involving the MV Pentalina and kept informed of developments throughout the night. We were relieved that all passengers and crew are safe and that arrangements were made to support passengers with onward travel.
"We would also like to express our appreciation to all those involved in the evacuation, including RNLI crews and other emergency services.
"The current priority is for Pentland Ferries to assess the condition of the vessel and any next steps to determine when she can return to service on the Pentland Firth. All parties will work to minimise disruption to services to Orkney and Parliament will be kept updated."
Highland and Islands Scottish Conservatives MSP Jamie Halcro Johnston, who will seek to question ministers on the incident at Holyrood on Tuesday, said: "This is a hugely concerning incident and one which could have had catastrophic consequences.
"Mercifully, all the passengers on board appear to have been evacuated unscathed thanks to the superb efforts of the RNLI, our emergency services and the MV Pentalina crew.
"The Pentalina was only summoned back into action this week because the MV Alfred had to be seconded from Pentland Ferries to help plug gaps in the ageing, unreliable CalMac fleet.
"While it will be important to know just how this incident came about, my immediate concern is for what this means for Orkney and how long this vital link for our islands will be severed.
"There are a number of questions the Scottish Government needs to answer, including whether the £9 million agreement between CalMac and Pentland Ferries allows for the MV Alfred to be recalled to Orkney early, or if the Alfred will stay on the west coast and Orkney will be left without a key service.
"Either way, this incident once again exposes the pitiful lack of resilience in Scotland's ferry network, with local residents, businesses and visitors hit again as result of years of SNP incompetence and failure to procure new vessels.
"I have previously warned that the crisis we have seen on the west coast routes risked spreading across Scotland's island communities, and we're now seeing that happening.
"This all stems from the SNP's appalling record on vessel procurement – and in particular the delayed delivery of the infamous Ferguson Marine boats – which has left CalMac with decrepit ferries that are breaking down on a regular basis."
Orkney Liberal Democrats MSP Liam McArthur, who will also to seek to question ministers in the Scottish Parliament, said: "Following the grounding of MV Pentalina in St Margaret's Hope last night, I want to pay tribute to those in our emergency services as well as the vessel's crew for ensuring the safety and welfare of the passengers affected.
"This was a serious incident and it is a relief to hear that everyone got off the vessel safely thanks to the diligence and professionalism of all involved in the rescue.
"Nevertheless there are important questions for the MCA to answer, having so recently inspected and certified MV Pentalina fit for service. People in Orkney will expect answers to those questions as a matter of urgency, not least given the importance of this service to the Orkney community.
"Answers are required too from the Scottish Government, whose failure to procure new ferries in a timely fashion has left services both in the north and on the west coast extremely vulnerable. As a result islanders and island communities are left paying the price."
Comments
 0 comments
Want to join the conversation? Please or to comment on this article.