A statement by transport minister Jenny Gilruth to MSPs planned for Thursday is anticipated to confirm the overnight train service will switch to public hands, like ScotRail last year.
The minister left the door open for a new contract being awarded to the outsourcing firm, which also runs NorthLink Ferries, but this is believed to have been rejected.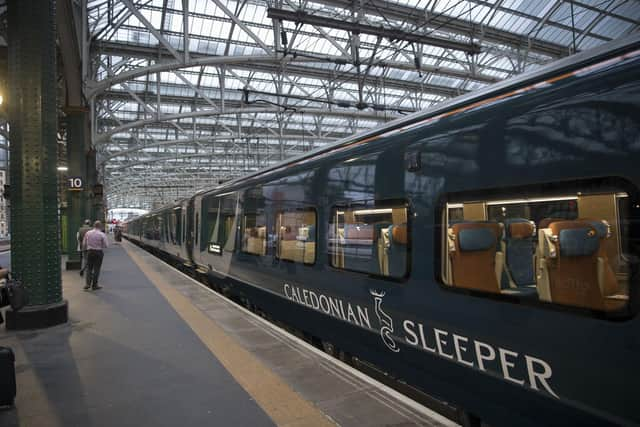 It is understood there have been no discussions between the Scottish Government and Serco over another contract for the service which runs between Scotland and London.
A senior union source said: "The implications appear to be that [nationalisation] is where we are heading. It makes sense. If Jenny Gilruth does not announce that, we will pile the pressure on."
A senior rail industry source said of nationalisation: "It looks that way. The Sleeper team know nothing about what's going to be announced, which would suggest that it's not going to be a direct award."
It is also understood that Serco believes it is the most likely outcome.
However, it is thought likely that the Sleeper would continue to be run as a separate entity rather than merged with ScotRail, from which it was split in 2015.
This could be by a Scottish Government "operator of last resort" similar to the one that has run ScotRail since last April and overseen by state-run Scottish Rail Holdings.
Sources said talks were about to start over the transfer of Sleeper staff from Serco under the Transfer of Undertakings (Protection of Employment) regulations, known as Tupe.
However, it is thought the initial phase of this process would be preliminary, in case there was a change of Sleeper operation ownership.
RMT general secretary Mick Lynch said the service "should be run by the public and for the public".
He said: "We have pressured the Scottish Government alongside politicians and others to do the right thing and take Caledonian Sleeper into public ownership.
"It is what our members on the service want and would be in the interests of the travelling public."
However, the Scottish Conservatives said that would be the wrong course of action.
Transport spokesperson Graham Simpson said: "It's no surprise that the militant RMT wants the well-run Sleeper service to be nationalised.
"That way they could hold the transport minister to ransom over that as well as the rest of the network.
"Jenny Gilruth needs to demonstrate that whatever she decides, it represents value for money for the taxpayer."
But Neil Bibby, his Scottish Labour counterpart, said: "The franchise model has failed. It's time to put an end to the inefficient and costly fragmentation of our railways and stop public money going to fund private profits.
"It's time to bring the Caledonian Sleeper into public ownership and one ScotRail operator".
Mark Ruskell, transport spokesperson for the Scottish Greens, which is in a power-sharing deal with the ruling SNP, also backed nationalisation.
He said: "A publicly-owned Sleeper service, operated in the national interest and integrated with the rest of Europe, is an important part of building a ScotRail that works for both people and planet.
"As the climate crisis worsens, we need affordable, accessible, reliable alternatives to aviation. The best way to deliver that is to follow the lead of most European rail services, which are being run by nationalised rail companies with the vision and backing of their governments."
The Scottish Government's Transport Scotland agency declined to comment but referred to Ms Gilruth's comments in a Holyrood debate last month, when she said her options were "a direct award of a new franchise agreement or the mobilisation of operator of last resort arrangements, as was undertaken for ScotRail".
She told MSPs: "Work is well under way to consider those options...with the intent to deliver the best service for Caledonian Sleeper passengers and the best value for the people of Scotland."