Gregory Kinsman-Chauvet, founder of the Glasgow-based cycling body Bike for Good, said Scotland should follow the lead of countries like France where riders can legally pass red lights at specially-marked junctions after giving way to pedestrians and other vehicles. It effectively makes them "Give Way" signs for riders, who can proceed if the junction is clear and it is safe.
Kinsman-Chauvet told Scotland on Sunday: "After reading various studies proving that removing the obligation for cyclists to stop at red lights increased safety, I decided to test it myself. In Paris and Lyon last autumn I had the opportunity to experience this and quickly felt much safer on the road.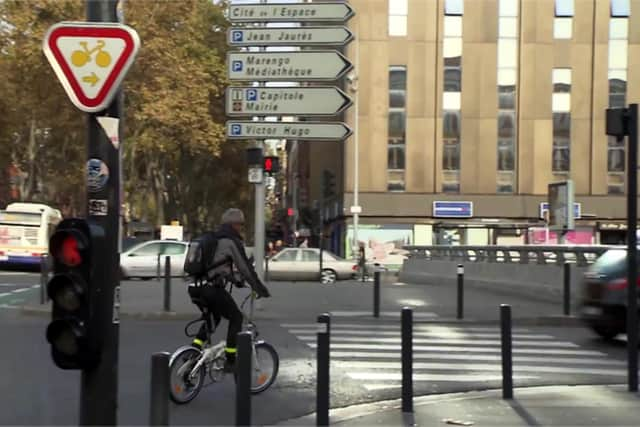 "At junctions, motor vehicles knew they had to prioritise cyclists and were more cautious. I was not stuck in traffic any more, I was part of the solution. It is time to change mindsets.
"Due to our health and climate crisis, we must re-prioritise our cities. It is time to give back priority to cyclists and pedestrians over cars."
A Deliveroo rider in Edinburgh told Scotland on Sunday this month: "Running a red light can be exceptionally dangerous, particularly taking an amber gamble just as lights are changing to red. There are, however, numerous times when there are no cars in sight and riding through a red light is safe and has zero effect on any other party."
But official development body Cycling Scotland opposed the idea. Cycling road safety manager Simon Bradshaw said: "There are many actions needed to improve safety for people cycling and we don't believe that permitting people to cycle through red lights should be one of them. Red lights (and green figures) ensure people can cross roads more safely and confidently.
"Scotland also has very different rules of the road to France, making it complex to replicate their legal approach.
"The recent updates to the Highway Code, if followed, make our roads safer for everyone. One key change is for people driving to give way to people cycling or walking, before turning at side roads. Advance green lights for people cycling can help at specific junctions, and the single biggest priority for safe cycling continues to be building networks of separated, dedicated cycle lanes."
Ian Maxwell, for Lothian cycle campaign Spokes, said: "I would like to see all motorists respecting advanced stop lines before we try this approach. There is also the question of why this particular priority is necessary. Cycling is already a fast and reliable way of getting through city centres, even if you do have to wait at a few red lights."
Campaigners Cycling UK said it "doesn't have an organisational position" on the issue but has called for a "long-term well-funded public awareness campaign is required to create a public mindset shift" over the Highway Code changes.