It affected the Notice to Air Missions service, or Notam, which was formerly known as Notice to Airmen and alerts pilots to potential hazards such as ice, runway work and unusual air activities.
This is provided separately in every country. Notam in the UK is operated as a text message system by National Air Traffic Services (Nats) on behalf of the Civil Aviation Authority (CAA). The organisations said its Notam system was differently operated to the one in the US and was not affected by the computer fault.
Nats said: "A Notam is a text message transmitted over a global network via [the] aeronautical fixed telecommunication network. It is delivered to a wide range of aviation-related organisations, such as air traffic control, flight planning offices, airlines and private pilot licence holders, to bring attention to the fact that something affecting the safe operation of aircraft is taking place. This could be airspace restrictions due to military exercises, closed runways or a whole host of other reasons."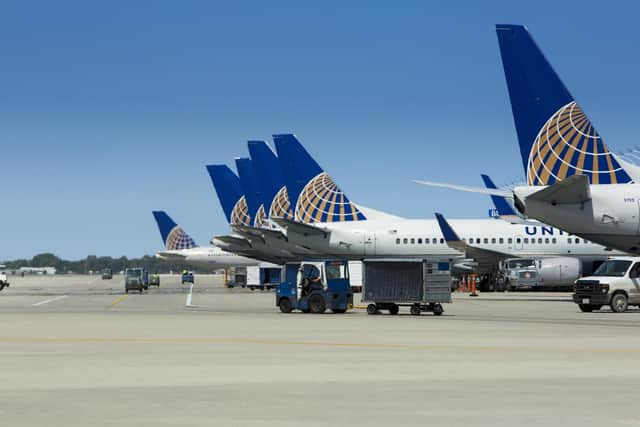 The FAA ordered all US flights to delay departures until 9am US east coast time (2pm UK time), affecting more than 3,700 flights, with more than 640 others cancelled.
However, aircraft were still able to land safely, suggesting flights from Edinburgh and Glasgow would not be affected. Edinburgh Airport said its US-bound flights on Wednesday had departed. Most flights to those airports from the US depart in the evening and arrive in the morning.
Due to heavy congestion, the FAA cleared flights to depart at Newark Liberty and Atlanta Hartsfield-Jackson airports.
The White House said there was no evidence of a cyber attack. The FAA said it was working on restoring its Notam system, with some functions coming back online. It said: "We are performing final validation checks and reloading the system now. Operations across the National Airspace System are affected."
Some medical flights could get clearance, and the outage did not impact any military operations or mobility.
UK airline passengers affected by the grounding of flights in the US were unlikely to be entitled to compensation, consumer group Which? warned. The organisation said the disruption would be considered outside airlines' control.
Virgin Atlantic flight VS26 from New York JFK to London Heathrow was among those delayed.
Under UK consumer law, airline passengers are entitled to compensation of up to £520 for disruption caused by a problem under the control of the airline, such as a staffing issue or aircraft fault.
Rory Boland, editor of magazine Which? Travel, said: "If your flight to or from the US is cancelled because of the FAA computer outage and you are departing from the UK or EU, or travelling with an airline based there, you will be entitled to a refund or rebooking at the earliest available opportunity, including with other carriers if necessary.
"However, passengers are unlikely to be owed additional compensation as the outage is considered an extraordinary circumstance, outside of the airlines' control."