The emergency funding is needed to pay for the annual maintenance of the world's last sea-going vessel of its type after soaring fuel costs caused a shortfall, as The Scotsman revealed last September.
Fuel accounts for half of Glasgow-based Waverley's operating costs and has left insufficient reserves for the ship's yearly winter "MoT".
Waverley Excursions, which has raised more than £130,000 since launching the appeal on January 19, told The Scotsman it was "optimistic" it could send the 76-year-old vessel to dry dock for its annual maintenance – the ship's biggest expense – as scheduled next month.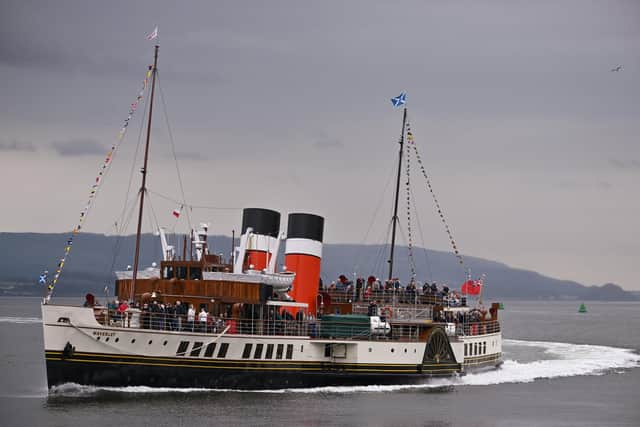 The ship. which carried more than 100,000 passengers last year, is due to resume sailings down the Clyde from its base beside the Glasgow Science Centre in May before tours to Oban and the Inner Hebrides, the Bristol Channel, the south coast of England and London.
General manager Paul Semple revealed last year that a £4 fuel surcharge announced in May had been insufficient to offset fuel prices rocketing from 55p to around £1 a litre. That meant Waverley was now costing £13.50 a minute to run in fuel alone.
A spokesperson for Waverley Excursions said: "The appeal has been doing well with our running total now over £130,000, with more than 1,500 individuals who have donated.
"We remain optimistic that further donations will come in and we will hopefully reach the target of £180,000.
"The Tighnabruaich Pier Association made a very generous £5,000 donation to our appeal at their annual general meeting two weeks ago.
"There is no fixed deadline [for the appeal target], however the ship is due to dry dock at the end of March.
"Working on the principle that the appeal has been successful so far, we are optimistic that we will be able to raise the funds to send Waverley to dry dock and meet our start-up costs for the 2023 season."
The total raised so far shows Waverley's fiercely loyal supporters have again rallied to contribute after they helped achieve a series of previous fundraising targets for similar work, and a £2.3 million appeal for a new boiler in 2019.
Launching the latest appeal, Mr Semple had said: "Due to increased operating costs last season, we don't have enough money to afford this year's dry dock and the numerous other costs we incur in the weeks before Waverley starts sailing.
"Last year, our fuel costs increased by over 60 per cent, or in real terms by over £300,000. This is a cost which the owning charity hasn't been able to withstand.
"We urgently need to raise funds or we simply can't afford the start up costs for this coming summer season.
"Operating a historic steamship like Waverley is inherently expensive. We are now spending over £600,000 a year just to maintain her in operating condition."