It includes a loss of £3m filed in the company's accounts for the year to last March.
Serco's accounts for the Scotland-London overnight trains in 2021-22 showed ticket sales bounced back with the easing of lockdown restrictions but remained below pre-pandemic levels.
Its 15-year franchise will end seven years early in June because of a disagreement with the Scottish Government over the level of support funding needed, with Serco believed to have sought a significant increase.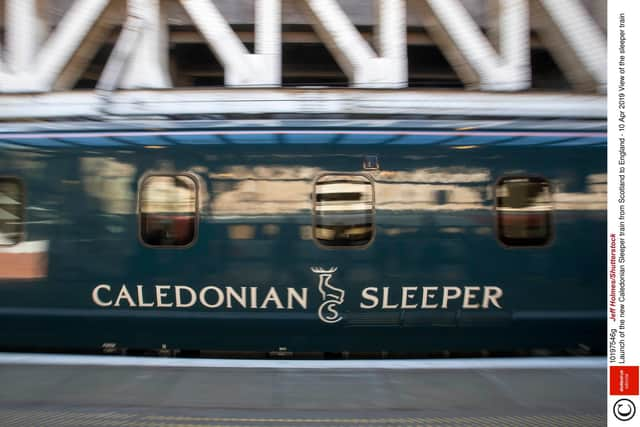 However, as The Scotsman reported in October, ministers have left open the possibility that the company could be directly awarded a new contract on different terms to continue the service.
Transport Scotland funding in 2021-22 reduced from £48.1m to £35.9m, contributing to the £3m loss, although this was less than a £3.9m loss the previous year and a £4.6m loss in 2019-20.
Ticket sales increased to £21.2m after falling to £5.7m at the height of the pandemic in 2020-21, although they reached £26m the previous year. Retail sales, such as food and drink in the trains' Club cars, soared to £553,000 compared to £32,000 in 2020-21 when the coaches were closed, but again the total did not reach the 2019-20 level of £670,000.
The number of staff employed by the Inverness-based operation, which runs trains six nights a week between Edinburgh, Glasgow, Aberdeen, Fort William, Inverness and London, increased from 195 to 204. The highest paid director, believed to be managing director Kathryn Darbandi, received £218,000.
Serco stated in the accounts that in 2021-22 the service "continued to be adversely affected by Covid, with passenger volumes and revenue down significantly". It said special funding was provided by Transport Scotland to help offset the impact of the downturn caused by the pandemic, which will continue in an adjusted form until June.
However, the firm added: "The company has recovered its revenue well and expects this recovery to continue into the coming years. The company continues to perform well against all measures of service delivery."
Serco said it had exercised its right last year, on the seventh anniversary of the start of the franchise in 2015, to "seek a rebase" of the financial terms "that would result in either a small positive profit margin for the company or an exit from the contract". It said ministers had not accepted the proposals and had given notice the franchise would end on June 25.
The company said work was still underway on an alternative new contract, "including a potential direct award to the company".
The pandemic came as a second blow to the operator after its new train fleet was plagued wide-ranging and long-running faults such as to the trains' plumbing and electronics which caused repeated grief for passengers. These are believed to have been largely ironed out.
The amount of additional finance which had been sought by Serco for the remaining seven years of the franchise to 2030 is undisclosed, but one source described it as involving "quite scary numbers". The told The Scotsman in October: "Serco was trying to get more money to inflation-proof the rest of the contract."
A Serco spokesman said: "This was a challenging time for Caledonian Sleeper during the Covid pandemic, which severely impacted all transport across the UK. We are pleased that since the time covered by these accounts the service has seen a significant improvement in passenger numbers."