Six-month ScotRail peak fares suspension to start in October – Humza Yousaf
ScotRail's peak fares will be suspended for six months from October, First Minister Humza Yousaf announced on Tuesday.
It would see return fares between Edinburgh and Glasgow come down from £27.60 at peak times to £14.20.
However, some industry experts have warned that the experiment, announced in the Scottish Budget in December, could cause overcrowding.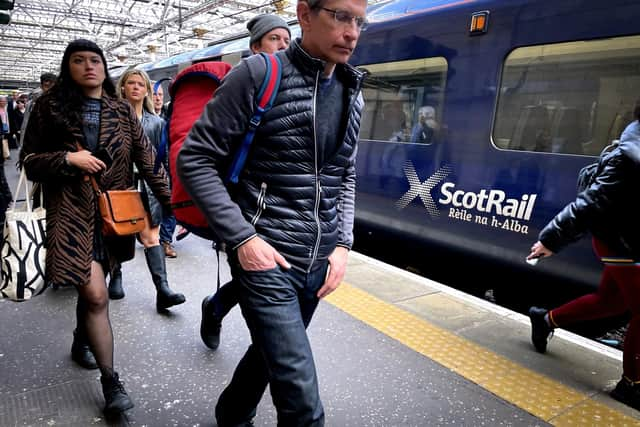 It also remains unclear as to whether the current ScotRail fares freeze since December, which is continuing indefinitely after being expected to end last month, will now be extended to October to coincide with the start of the peak fares reduction.
Transport Scotland, which runs ScotRail, said: "The fares freeze will stay in place at the moment until a decision made on any fares increase – a decision on that still under consideration."
Mr Yousaf said evidence from the peak fares suspension pilot would be used to assess fares across the rail network.
He told MSPs: "We will make our public transport system more accessible, we'll make it more available, we'll make it more affordable.
"As an important part of that, I can confirm today that the six-month pilot to remove peak-time fares from ScotRail services will start in October of this year.
"The evidence from this pilot - and our wider fair fares review - will allow us to bring forward further targeted measures, from next year onwards, to ensure that the costs of transport are more fairly shared."
Kevin Lindsay, Scotland organiser of train drivers' union Aslef, said: "This announcement is a direct result of rail workers demanding this action be taken when we launched our vision for Scotland's Railways.
"With the cost of living crisis hitting Scots hard, we urge the [Scottish] Government to explore every opportunity to accelerate the scrapping of peak fares and make the policy permanent.
"With ScotRail back in public hands, it's only right that passengers and rail workers see the benefit of public ownership as quickly as possible."
Peter Pendle, interim general secretary of the Transport Salaried Staffs Association, said: "The scrapping of peak time ScotRail fares is welcome news - but as with many things on ScotRail, it's been delayed.
"Commuters will still be paying peak rate rail fares for another six months – that's simply not good enough in this cost of living crisis.
"When the peak fares are finally scrapped, this cannot just be a short-term gimmick.
"Hard-working Scottish commuters don't deserve to be punished for travelling at a time of day that suits their employers. ScotRail peak fares must be abolished for good."
On other transport measures, Mr Yousaf said: "As part of that commitment to active travel, we will also increase our investment to deliver more places where people can walk, where they can wheel and cycle safely for day-to-day journeys.
"We will double the charge point network for electric vehicles to at least 6,000, and increase the number of zero-emission buses on Scotland's roads."
Comments
 0 comments
Want to join the conversation? Please or to comment on this article.