Summer travel Scotland: Edinburgh Airport introduces earlier check-in for first flights to reduce terminal congestion
Scotland's busiest airport has introduced a series of changes such as earlier check-in in an effort to ensure a smooth summer following last year's post-lockdown problems.
Edinburgh Airport expects to return to handling more than one million passengers a month as it did pre-pandemic, while Glasgow Airport predicts an extra one million passengers this year, many of them during the summer.
Edinburgh has introduced an early check-in service from 3:30am for the first flights, which it said "should help reduce some of the morning congestion in the terminal".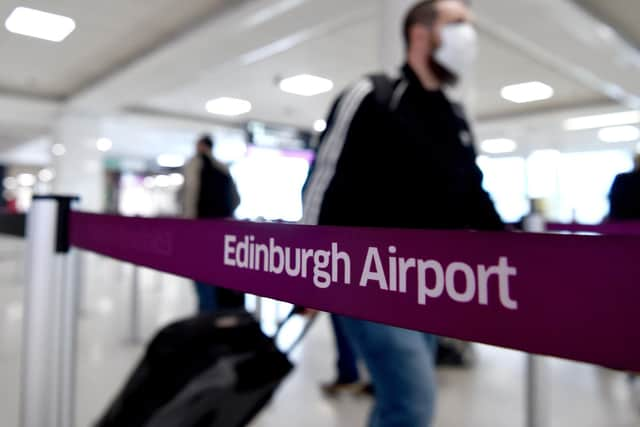 But the airport stressed: "This is really important – don't come too early. There's no point being here five hours before your flight when you airline doesn't open check-in until three hours before the flight."
Officials said Virgin Atlantic and Delta, which fly to the US, opened their desks up to four hours before take off. Easyjet and Ryanair's desks opened at least two hours before departure.
Easyjet, the airport's second biggest airline after Ryanair, have introduced, along with Jet2, a "twilight" check-in to enable passengers to drop off luggage the evening before they fly, from 4pm and 4:30pm respectively until 9pm.
The airport has also established a "welcome team" to help travellers with queries, and it pledged to make any further changes needed.
A spokesperson said: "The Easter holidays were a good test for us and the operation as a whole performed very well, but we will look to see where we can make additional improvements to enhance passenger experience further.
"We saw more than one million passengers in March for only the second time ever [after 2019] and we're expecting more than one million passengers per month throughout the summer – back on a familiar trajectory."
The airport said security queuing times could be reduced by passengers being ready to remove liquids and electrical equipment from their hand luggage. They should also take off jackets and belts before they reached the front of the line, and remove everything from pockets, including tissues.
Glasgow Airport said the general rule was passengers should arrive three hours before international flights and two hours before UK flights. It said this summer would be different from last year, when travel restrictions were not lifted until mid-March 18, "so there was an element of catch up to be ready".
Officials added last summer, airports had been unable to recruit seasonal staff during the previous autumn as normal because it was not known when the restrictions would end. Glasgow Airport also said more than 550 jobs available at its recruitment fair in January were "essentially filled".
The 100mL container limit on liquids in hand luggage remains at both airports, although it has been eased at a few other UK airports, including London City, where two litre bottles are permitted and no longer have to be taken out of bags at security.
Comments
 0 comments
Want to join the conversation? Please or to comment on this article.