'Hands up, I lost my temper' – Alex Cole-Hamilton apologises after being caught swearing at minister during Scottish Parliament committee meeting
Edinburgh Western MSP Alex Cole-Hamilton has apologised after his foul-mouthed outburst during a Scottish Parliament committee meeting last week.
Cole-Hamilton, who is deputy convener of the Equalities and Human Rights Committee, was seen in a clip appearing to mouth "f*** you" while his microphone was on mute.
The Liberal Democrat appeared to lose his temper after SNP members of the committee said that legislation incorporating the United Nations Convention on the Rights of the Child (UNCRC) into Scottish law should not be enacted until a year after the bill received royal assent.
The outburst appeared to be directed at SNP Children's Minister, Maree Todd.
Cole-Hamilton apologised after Todd wrote on Twitter: "Those who spotted this at the time at committee thought it was directed at me. Having seen the footage I'm inclined to agree. The swearing is appalling but the face contorted with anger also requires some explanation. Be grateful to hear it @agcolehamilton @scotlibdems"
Replying to Todd's tweet, Cole-Hamilton said: "Hands up, I lost my temper here. I was frustrated by your government backsliding on children's rights once again (as long-grassing UNCRC incorporation would have been). Nevertheless I muttered something under my breath that I shouldn't have and I apologise."
In a statement released on Sunday, Strathkelvin and Bearsden MSP Rona Mackay branded Mr Cole-Hamilton's apology as "half-baked", saying his flippant tone undermines cross-party efforts to encourage more women into politics and must be condemned by Lib Dem leader Willie Rennie.
Ms Mackay said: "Alex Cole-Hamilton must now offer an unequivocal apology for his disgraceful outburst rather than blaming the woman on the receiving end of his bile.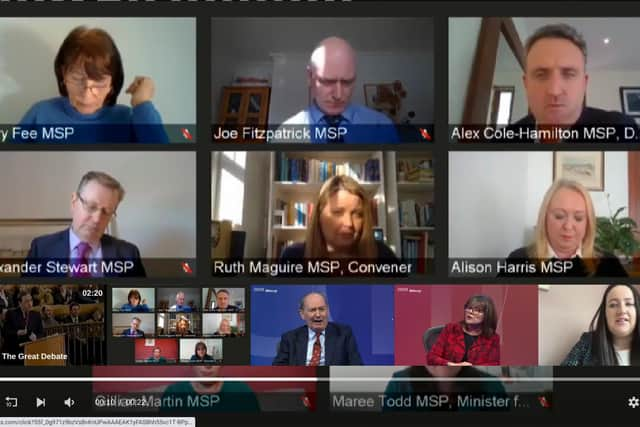 "Political leaders have a responsibility to call out this kind of contemptible behaviour too, even if it happens within their own party. It's time for Willie Rennie to take responsibility and ensure this kind of behaviour is not allowed to go on unchecked.
"Mr Cole-Hamilton should reflect on what message vile behaviour like this sends to women considering a career in politics. Female politicians are already subject to enough appalling mysognist intimidation without being the target of venomous, foul-mouthed abuse from male colleagues during important parliamentary business.
"My message to Mr Cole-Hamilton is clear – stop hiding behind a half-baked apology and set the record straight now."
A message from the Editor:
Thank you for reading this article. We're more reliant on your support than ever as the shift in consumer habits brought about by coronavirus impacts our advertisers.
If you haven't already, please consider supporting our trusted, fact-checked journalism by taking out a digital subscription.
Comments
 0 comments
Want to join the conversation? Please or to comment on this article.