Trump wanted to buy Turnberry 20 years ago, manager reveals
Donald Trump wanted to buy Turnberry at the turn of the millennium, and looked at concluding a deal for the property several times before eventually purchasing it in 2014, according to the resort's general manager.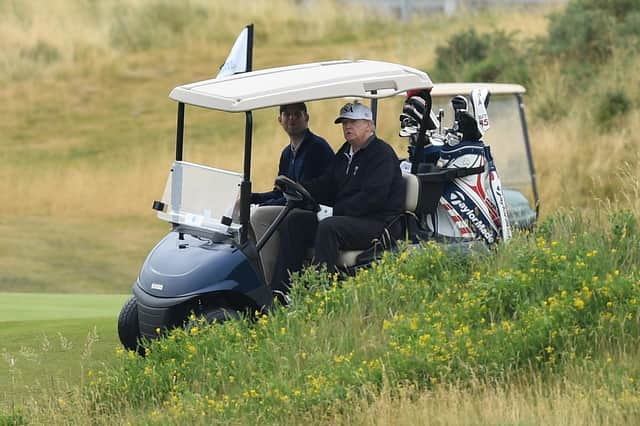 Ralph Porciani, who oversees Trump Organisation's flagship international resort, said that the outgoing US president wanted to purchase the historic property twenty years ago.
With Mr Trump set to leave office in January, it is expected he will become more involved in the running of the South Ayrshire resort, which has yet to turn a profit under his ownership.
In an interview, Mr Porciani, Turnberry's veteran general manager, revealed how the coronavirus pandemic has impacted on the business, and recalled how his first meal at the property was "worst dining experience of my life."
Speaking to the chef, Jak O'Donnell, host of the Scottish Chefs podcast, Mr Porciani said he was "resigned" to leaving Turnberry to move to Abu Dhabi, only for the Trump family takeover to turn his plans "upside down."
He said that he met with Mr Trump in one of the hotel's bedrooms, where he was asked to stay on, and shook hands on the deal.
Recalling Mr Trump's desire to own the property - a four-time host of golf's prestigious Open championship - he told the podcast that it was a "heart purchase," not a "head purchase."
"He'd wanted it for 20 years. Twenty years ago he wanted to buy it, and he'd been after it, and he'd looked at it a couple of times," he explained.
"Did he realise that it needed as much spent on it? No, because when it's a heart purchase, you want to get the deal through as quickly as possible.
"You know, it's like a house - the more due diligence you do looking to buy a house, the more the chances are that you're not going to buy the house.
"You don't dig in too deep, do you? But they wanted Turnberry, and it's the best thing that ever happened to Turnberry."
Mr Porciani, who started out working at his grandparents' fish and chip shop in Dumbarton, joined Turnberry as an executive chef in 2004, during which time it was going through a "tough transition" under Starwood hotels.
He explained: "I walked in and thought, 'This is a mess'. I actually cried at my interview on the Sunday morning … Turnberry for me was always on a huge plateau, and still is. I'm cap in hand with that today every day when I come in the back door, but I had the worst dining experience of my life.
Describing how the kitchen was in a "mess" at the time, he described his meal - which included a starter course of a whole tomato stuffed with duck - as a "disaster," adding: "It was awful, it was really, really bad, I was heartbroken. As a Scottish chef out of London it really upset me."
According to Mr Porciani, food and beverage sales now account for 59 per cent of the resort's revenue, with hotel rooms and golf accounting for the remainder.Ordinarily, 31 per cent of guests at the hotel play golf, but that figure has fallen to around 20 per cent during the pandemic, he added.
A message from the editor:Thank you for reading this article. We're more reliant on your support than ever as the shift in consumer habits brought about by coronavirus impacts our advertisers. If you haven't already, please consider supporting our trusted, fact-checked journalism by taking out a digital subscription.
Comments
 0 comments
Want to join the conversation? Please or to comment on this article.