Just as the clocks fast forward an hour, the Met Office says that Arctic Maritime Air is set to sweep across the country once more.
Low pressure which brought high winds and unsettled conditions this week is moving eastwards away from the UK, leaving the "door open" to chill winds from the far north.
Oli Claydon of the Met Office said: "It's going to be a chilly interlude, just at the start of British Simmer Time.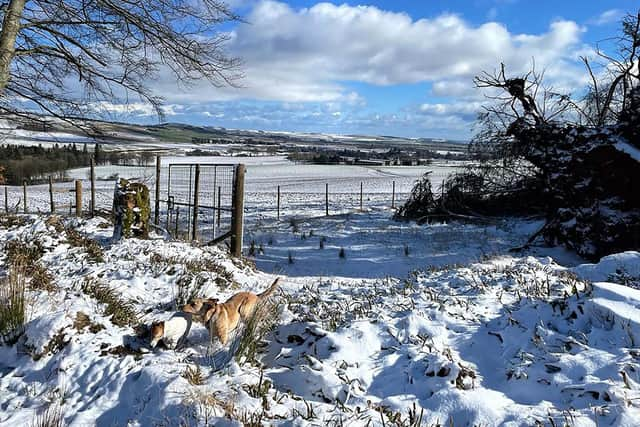 "It's a similar set-up to the spells of very cold weather we have seen in the past few months, when Arctic air dominates the climate.
"By Saturday evening, the colder air is moving into the Northern Isles, producing snow showers mostly in the north but possibly down to lower levels later in the day.
"Things will turn very cold on Sunday night, when we expect the temperature to get down to Minus -7°C in rural Scotland.
"We are not expecting disruption and are not planning to issue any warnings. In fact, on Sunday it might feel quite warm in the sunshine as the sun is now significantly higher in the sky.
"Still, the snow is not what you would expect on the first day of summer."
The meteorological winter ended on the last day of February but no sooner had spring sprung than Scotland was plunged back into winter, with a bone-chilling -16°C at Altnaharra in Sutherland on March 8.
This made it the coldest day of 2023 and the lowest March temperature since 2010. The accompanying heavy snow helped provide an end-of-season boost to the nation's ski centres.
Eventually, warmer air from the south west brought an end to the freeze in the middle of the month, bringing heavy rain and windy conditions on the coasts.
This latest cold snap is not expected to last long and the Met Office say that by Tuesday, we should start to enjoy temperatures more akin to the time of year.
The Met Office long range forecast for next month states: "Into early April, it is likely to remain changeable but perhaps more in the way of drier interludes, especially across the south.
"Some strong winds are likely, with a low risk of gales, mainly for western areas. Temperatures are generally above average, with colder conditions possible in the north."
Into the Easter period, it is expected that dry spells of weather could emerge from frosty mornings, with fog possible overnight.
Last Easter Sunday, slightly later than this year, Glasgow registered a balmy 19.5°C just as families celebrated the end of two years of Covid curbs. Edinburgh was not far behind at 18.2°C.