With up to six inches (15cm) of snow forecast, this could affect road and rail journeys through the warning area, now extending to Grampian, Highlands and Islands, Orkney and Shetland and Argyll and Bute.
However, sunshine will be the order of the day from the central belt south, with prolonged bright spells lasting until the end of the week.
Everywhere will be cold by night, including a potential for Minus 10C on Monday morning and Tuesday in rural Aberdeenshire communities like Braemar.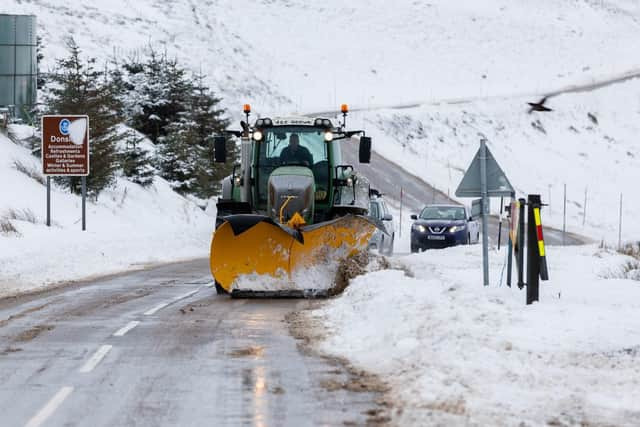 Even Edinburgh and Glasgow could drop as low and Minus 4C or Minus 5C and daytime temperatures on Monday will hover just above freezing.
Tom Morgan of the Met Office said many will enjoy the break from the heavy rainfall which has been a feature of the new year.
He said: "On the positive side, after such a wet spell, many people are going to experience long periods of welcome winter sunshine.
"It is not totally unusual for this time of year as the UK frequently benefits from high pressure sitting off our shores, allowing sunny spells to develop.
"It's a very different picture in the north, where the warning period for snow and ice continues until Wednesday morning.
"West coast locations exposed to northerly winds will see a fair number of heavy snow showers, particularly on Monday.
"And across the north generally, we can expect quite a bit of snow to accumulate, even at low levels."
After a cold spell lasting four or five days, winds are likely to turn to the west by Friday, heralding more unsettled conditions coming in from the Atlantic.
Over the weekend, the snow gates were closed on the A93 between Glenshee and Braemar.
In Ayrshire, the A77 was closed northbound due to flooding between Spittalhill and Bellfield.
Southern parts of Scotland have been included in a national alert for freezing conditions, lasting until 10am today (Mon). People have been warned of the possibility of slips and fall on untreated roads, pavements and cycle paths.
The Met Office has issued a yellow warning for ice covering Northern Ireland, southern Scotland, northern England, northern Wales and the Midlands, while hundreds of flood warnings are in place across the UK.
The alert, which warns that "wintry showers" will lead to "difficult driving conditions" due to slippery surfaces, is in place until 10am on Monday.
In England, flood defences, including boarding, were deployed in York city centre.
Meanwhile, the Scottish Environment Protection Agency (Sepa) has issued three flood warnings for areas of the Scottish Borders, Tayside and Ayrshire and Arran, along with two milder alerts for West Central Scotland.