Storm Bella: Snow and ice warning issued for Scotland
Snow and ice is expected to hit parts of Scotland tomorrow during what is expected to be a day of extreme weather, according to forecasters.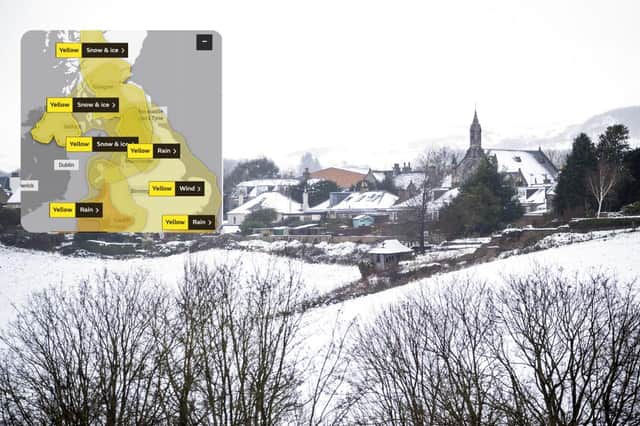 The Met Office has issued a snow and ice yellow weather warning for most parts of the country including the Lothians, Strathclyde, Grampian and Tayside and Fife.
The warning is in place from about 3am on Sunday, 27 December through to 3pm for the north of Scotland, while the south of the country is expected to see the spell of freezing weather from about 6pm tomorrow through to Monday, 28 December.
A statement on the Met Office website confirmed some areas affected by the cold snap will see one to three cm of now, but higher accumulations are likely over higher ground.
Above 250 metres, accumulations of 5-10 cm are possible.
"Whilst skies are expected to clear from the north overnight, icy patches are likely to develop and persist through to Monday morning," the statement added.
Residents living in areas affected by the cold weather have been warned about disruptions to travel and a higher risk of accidents happening due to the icy conditions.
A yellow weather warning for rain has also been issued for the north west of Scotland on Boxing Day with localised flooding likely to happen in reas affected by the downpours.
The bout of extreme weather hitting Scotland, and the rest of the UK, has been named Storm Bella by weather experts.
Amber weather warnings for wind are in place for most of Wales and the south of England as well as rain, snow and ice warnings until 28 December.