RECAP Storm Ciarán: Disruption continues across Scotland's railway line following signal outage
A yellow rain warning is in place for Scotland's east coast today.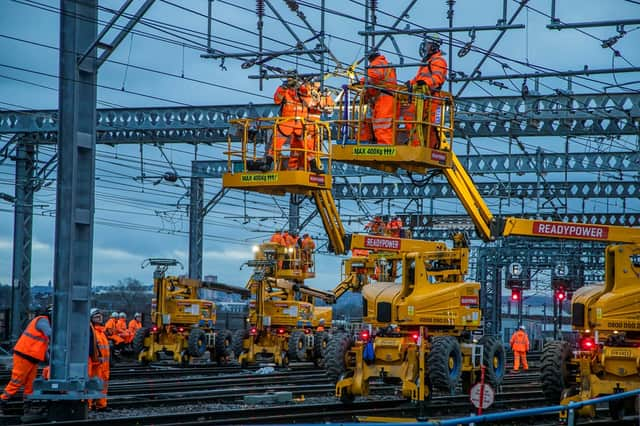 Travel disruption continues at Scotland's railway due to a major signal outage on Thursday afternoon in the Edinburgh area which left hundreds of passengers stranded for hours. Follow here for more updates on travel and weather today.
RECAP Storm Ciarán: Disruption continues across Scotland's railway line following signal outage
Show new updates
UPDATE Inverness: Trains are now running
Trains to and from Inverness are now up and running after a signal fault was reported, ScotRail has said.
Services into and out of the Highland station were brought to a standstill after a signal failure happened at about midday.
After about an hour the issue was resolved and trains have started running again.
Scotland's railway network has been experience significant delays and cancellations due to poor weather conditions and a major power surge which led to a widespread electrical fault across the network on Thursday.
LNER has advised passengers against travelling on its services today while train operators get back on their feet following major disruption.
Trains unable to run into and out of Inverness due to a signalling fault
Services are unable to run on the Aberdeen Perth lines due to another signal fault.
It comes after Edinburgh Waverley was brought to a standstill on Thursday due to a huge power surge so severe it "effectively fried everything in the system."
Edinburgh Waverley rail disruption: Huge power surge 'fried everything'
A massive power surge which cancelled more than 300 trains and disrupted thousands of passengers at Edinburgh Waverley Station was so severe it "effectively fried everything in the system", Network Rail has told The Scotsman.
Read more from our transport correspondent Alastair Dalton here:
LNER advises against travel on Friday
LNER, one of the main train operators, said: "We strongly advise you not to travel today, Friday 3 November. We have an limited train service, trains that are running are heavily will be extremely busy.
"We are sorry for any inconvenience this may cause."
LNER has halved the number of trains between Edinburgh and Newcastle, partly because of speed restrictions related to repairs to a viaduct near Morpeth.
Speed restrictions in Scotland are affecting services from Glasgow, Edinburgh and Inverness to Aberdeen, with some cancellations.
The Scotsman's transport correspondent Alastair Dalton who was at Edinburgh Waverley last night talks about the disruption
"I was at Waverley shortly after 5pm, just after the incident happened. There were hundreds of people and pretty much every train was marked either delayed or cancelled," he said.
"ScotRail alone had around 300 services cancelled." He said Network Rail told him "the scale of the surge was such that it effectively fried everything in the system."
Listen to more of his report here:
Power surge caused signals to stop working in the Edinburgh area
The significant travel disruption on Thursday which left hundreds of passengers stranded was due to a power surge that caused signals to stop working in the Edinburgh area, Network Rail said.
The fault was reported at about 4.50pm, with a specialist engineer arriving onsite at about 7pm.
Network Rail said due to the complex nature of the fault, trains were unable to run for the rest of the evening.
The major disruption means services on Friday to and from Edinburgh Waverley may still be affected.
Liam Sumpter, Network Rail Scotland route director, said: "We'd urge passengers travelling on Friday morning to check with National Rail Enquiries or their train operator before they set off for the latest information."
Train operators affected (ScotRail, London North Eastern Railway, TransPennine Express, CrossCountry, Lumo, Avanti West Coast and Caledonian Sleeper) said they are working to keep passengers on the move, though rail replacement transport is limited.
Signal issues continue preventing some Edinburgh services from running
No trains are running between Edinburgh and Bathgate due to a signal fault, ScotRail said.
The Helensburgh to Edinburgh services are only running between Helensburgh and Bathgate in both directions.
The signal issue is affecting the Uphall areas.
There are currently four rail replacement buses "running as frequently as possible" between Bathgate and Edinburgh Park, calling at Livingston North and Uphall in both directions, ScotRail confirmed.
It comes after hundreds of passengers were left stranded on Thursday night after an electricity supply issue hit the Edinburgh area.
Network Rail confirms trains are up and running at Edinburgh Waverley
Passengers may still experience disruption due to a number of services being out of action since about 4.50pm on Thursday.
A spokesperson said: "Trains can run to and from Edinburgh Waverley again this morning, following last night's signalling failure.
"Disruption is likely to continue for several hours though, as we work with operators to get their trains and crews back into position."
Comments
Want to join the conversation? Please or to comment on this article.