The former kickboxing world champion, who amassed millions of followers across Facebook, Instagram, Twitter, YouTube and TikTok for his divisive content, is facing allegations of human trafficking and being part of an organised crime gang, along with his brother Tristan.
Both siblings will remain in detention until late next month after a judge granted a request to extend their detention by 30 days for a second time.
On Monday, Channel 4 announced it had commissioned a 60-minute documentary asking how the 36-year-old became so famous.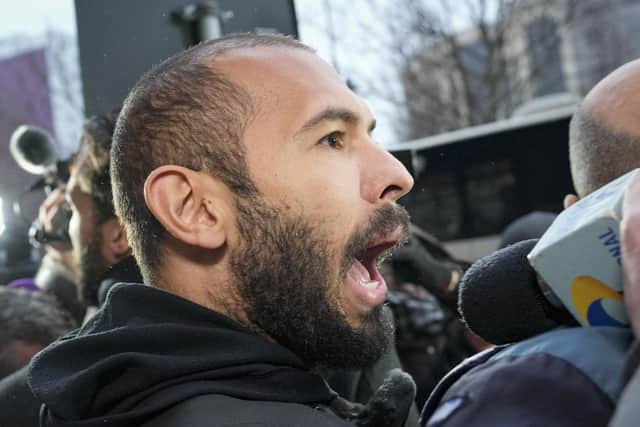 It will seek out figures from his personal life, gather "extensive footage" of him over the past decade and speak to his legions of supporters, the broadcaster said.
It will be directed by Maggie Gaudin and executive-produced by Dan Reed, who directed the Michael Jackson documentary Leaving Neverland.
Reed said: "How Andrew Tate became the most viral influencer on the planet, and what forces and experiences shaped Tate the man (as opposed to the controversy-seeking media icon) is what we're trying to find out.
"This sits at the sweet spot between a tabloid subject and an in-depth, highly-wrought documentary where Amos Pictures is at its strongest in its partnership with Channel 4.
"Tate has given us full access and we're looking forward to carrying on filming if he gets out of jail in the coming weeks."
Commissioning editor Anna Miralis said: "As we await the outcome of the Romanian investigation there are so many questions that surround Andrew Tate, not least how he amassed infamy and fortune in a relatively short period of time, and why it is his anti-feminist agenda resonates so powerfully with his followers.
"With incredible access, Dan Reed and Maggie Gaudin are poised to unpick this fascinating and fast-evolving story."
Tate, who has reportedly lived in Romania since 2017, was previously banned from various prominent social media platforms for expressing misogynistic views and hate speech.
He was reinstated to Twitter last month and has 4.8 million followers.
An online petition launched on January 22 to "free Andrew and Tristan Tate from unjust imprisonment" claims "the judiciary, prosecutor and Diicot have acted unfairly in their detention of the Tate brothers".
After the Tates and women were arrested, Diicot alleged it had identified six human trafficking victims subjected to "acts of physical violence and mental coercion" and sexually exploited by the members of a crime gang.
The agency said victims were lured with pretences of love, but later intimidated, kept under surveillance and subjected to other control tactics while being coerced into engaging in pornographic acts for substantial financial gains.
Earlier this month, Romanian authorities descended on a compound near Bucharest and towed away luxury cars including a blue Rolls-Royce, a Ferrari and a Porsche.
They reported seizing assets worth about £3.15 million.
Prosecutors have said if they can prove the owners gained money through illicit activities such as human trafficking, the assets will be used to cover the probe's expenses and compensate victims.