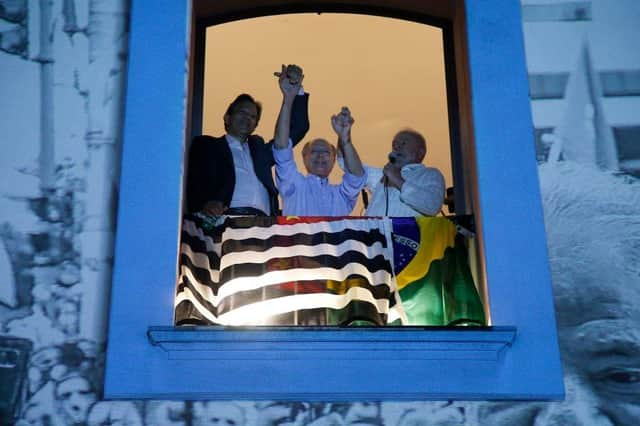 Mr Bolsonaro has suggested that he will contest the result if he is not happy with the outcome, amid claims that he believes electronic voting could be rigged. A second round of votes is due to start on Sunday after a close result in the first round between the top two candidates prompted election officials to call a run off.
This comes as former president José Sarney, who ruled Brazil between 1985 and 1990 as the leader of the centre-right Brazilian Democratic Party, declared his support for Mr Lula, saying a vote for the left-wing candidate was a "vote for democracy". Mr Lula, who also led the country between 2003 and 2010, is co-founder of the Workers' Party.
The most recent polling showed that Mr Lula has increased his lead slightly over Liberal Party candidate Mr Bolsonaro. Mr Lula leads by 52 per cent of the votes against 46.2 per cent for Mr Bolsonaro, according to the AtlasIntel poll.
A separate poll released on Tuesday by Ipec found that 23 per cent of Brazilians believe Brazil is being governed democratically – however, 17 per cent per cent say it is not.
Mr Sarney's support for Mr Lula was welcomed by campaigners for the opposition candidate, despite their political differences.
One Twitter user wrote: "All those who formed the New Republic, who fought for the re-democratisation of the country, are with Lula. Bolsocaro is the return of the "years of lead" that only brought pain and sadness."
In a statement published on his website, Mr Sarney wrote: "This vote is not for four years of government: it is a vote for the destiny of Brazil. The vote for Bolsonaro is a vote against the institutions, which will result in years of autocracy, a regime of force, built on systematic lies and the abuse of power.
"The vote for Lula — who already has his place in the history of Brazil as the person who led the people to power and as responsible for two excellent governments — is a vote for democracy, for the return to the alternation of power regime, for the search for the Welfare State. The difference is clear."
Mr Bolsonaro's campaign took a blow at the weekend after former Brazilian federal deputy and ally of the president, Roberto Jefferson, was charged with four attempted homicides after he shot at Federal Police agents who went to arrest him at his home on Sunday.
Roberto Jefferson, who counts Mr Bolsonaro as a "personal friend", attacked police who arrived at his home on Sunday to return him to jail. He has been under house arrest since January, after he was jailed in August 2021 as part of an investigation into anti-democratic social media mobs. However, a judge ruled that he should be returned to prison after he published a threatening statement against a female member of the court.
The Bolsonaro campaign has since tried to distance itself from the president's relationship with Mr Jefferson.