Two months later, he found himself barred from entering the chamber after refusing to make the historic oath to King Charles III.
Voted in in 2020 as leader of PQ – the party that was once the main independence movement in the French-speaking Canadian province, but which has seen its popularity slump in recent times - last year's elections were the first time Mr St Pierre Plamondon had been an elected Member of the Quebec National Assembly (MNA).
"In our second leader debate during the campaign, the host asked me what my opinion was in the oath to the King," he says. "I had said on several occasions before that I oppose that oath, because if my first act as an elected member of parliament is to give my loyalty to someone, that will be to the people of Quebec.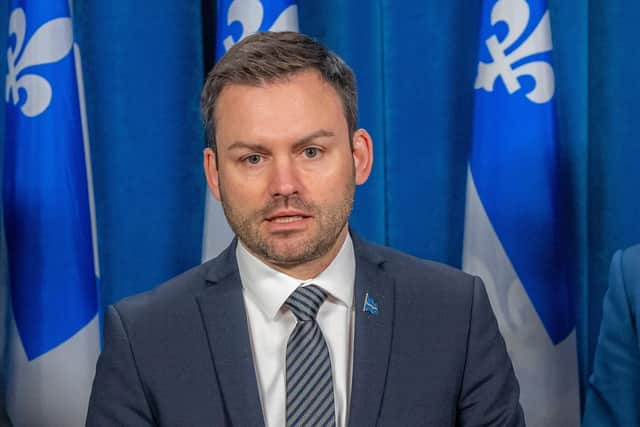 "So I spontaneously said 'if you elect me, I will not make an oath to the King of England'. It is an oath that made sure French Canadians are loyal to the British colonial regime."
He says federalist – unionist – commentators described the stand off as "frivolous".
"They said we should go to work, that we had more important things to do," he says. "But what started out as a 'frivolous' enterprise turned out to be very emotional in the population. We saw public opinion really turn at that moment when the door was shut in our face."
Soon afterwards, a law was passed making the oath optional. Mr St Pierre Plamondon says he believes the incident was a turning point for the independence movement in the Canadian province, since a decline following a referendum in 1995, which saw the pro-independence movement, known in Quebec as "sovereignty", lose by a margin of just 1 per cent. An earlier referendum, in 1980, saw the pro-independence side defeated by 59.56 per cent to 40.44 per cent.
"It triggered a conversation for former politicians saying 'we should have not done that, not accepted it'," he says. "We should stand for what we think is true and right on other topics – and that's where it becomes a metaphor for the independence of Quebec."
He says he believes no subsequent elected members of the Quebec Assembly – whether pro or anti Quebec independence – will ever swear an oath to the king again."Now, nobody is going to come back in 2026 saying 'please let me swear an oath to the King of England," he says. "It triggered an emotional reaction [in the people] on a topic that had never been debated before.
He draws a parallel with Scotland, which he says has "also experienced all sorts of tactics to discourage any self determination or normal democratic function". MSPs also pledge to be "faithful and bear true allegiance" to the monarch when they are sworn in to Holyrood.
"It is quite humiliating," he says. "You know you've been conquered militarily and it had a big effect on the democratic standpoint of your people and the first thing you do once you get a mandate from your people is kneel down before the King of England. Why?"
Mr St Pierre Plamondon is in Scotland as part of a whistle-stop tour of European countries with independence movements, holding meetings in Edinburgh and Aberdeen, before travelling to Spain – where he will discuss the Catalan independence movement – and Belgium.
He repeats several times that he wants to be careful not to interfere with Scottish internal politics, avoiding disclosing details of his meetings while in Edinburgh and Aberdeen. It is understood no formal meeting with any members of the Scottish Government took place.
"It's a chance for us to meet with society and politicians and talk out where we're at," he says. "It has been a while since PQ has done such a diplomatic journey. But I think it is essential in any quest for self-determination.
He describes the organisation of the pro-indy Yes movement in Scotland as "very impressive", pointing to claims the unionist sides in the UK and Canada have collaborated in the past.
"We know that the playbook used by London during the first referendum of Scotland was taken directly from Canada," he says. "Arguments of fear, arguments on an economic basis that are actually unfounded.
"Among the things we need to structure correctly is relationships with our own civil society, but also our relations with other nations. This first trip is a first step of rebuilding. We have democratic ties with Scotland – we are both dealing with fundamental questions about democracy. We think that we have a duty to support the principles of democracy everywhere."
Until 2018, the party had enjoyed 45 years in a significant position in the assembly of Quebec as either the governing party, or the official opposition. Yet by the time of the last elections, five months ago, it had just three members elected to the assembly and briefly lost its official party status.
Now, however, Mr St Pierre Plamandon is clear what direction he wants the party to go in. PQ is eagerly anticipating the results of a coming opinion poll, which he hopes will demonstrate the ground he has made up since his election to the assembly.
He recounts a chance meeting with a group of Quebecois teenagers at Edinburgh Airport, whom he says asked him for selfies "like a hockey player".
"Six months ago, who cared?" he asks. "People assumed the PQ might die. My goal in politics – and I am very straightforward about it – is to hold the third referendum and win it."
He wants to unite his party around the independence movement, allowing for opposing views over other issues such as health, education or finance. He acknowledges he is aware of the current SNP leadership debate going on in Scotland following the resignation of First Minister Nicola Sturgeon, where candidate Kate Forbes has come under fire for her conservative opinions over issues such as gay marriage.
"We're in an era of polarisation where the tolerance of disagreement can quickly become insults," he says. "We should keep in mind that maintaining a respectful democratic culture within the party is fundamental because if we're not capable of having those conversations, achieving the mission then becomes very difficult.
"The doctrine I'm trying to put in place is that I'm a social democrat, but that within the members of the Parti Quebecois, there is space for ideas that are right and left. I am calling for every member to keep in mind that these debates are normal, but shouldn't prevent us from focusing on what is the real reason for our commitment in politics."
He has no qualms about regarding any future election win as a de-facto referendum, something which has been a hot topic of debate among SNP members in Scotland. When asked if a vote for him is a vote for independence, Mr St Pierre Plamondon is surprised there could be an alternative.
"Oh yes, I talked about it so many times during the campaign, that it's impossible they [the electorate] didn't notice," he says. "[But] if I do not become premier of Quebec, if PQ does not get a majority mandate, then obviously, there is no referendum. The occurrence of a referendum is connected to the will of the people in electing a government."
PQ's decline began shortly after a prominent member, Francois Legault, retired from politics in 2009. Anticipated as the next leader of the party, Mr Legault's departure was a shock for many.
However, just two years later, he reappeared, launching his own party, Coalition pour l'avenir du Québec (Coalition for the Future of Quebec) – this time under the banner of being "autonomist" – a party that wants Quebec to have, essentially, devolution, but not full independence. Mr Legault is premier of Quebec, a role he has held since 2018.
"Becoming so-called nationalist-federalist allowed Francois Legault to take power, but I think after eight years of Legault in power, we will have realised we didn't achieve much on fundamental issues, except his party having power," says Mr St Pierre Plamondon.
He says he believes the time of Mr Legault's more moderate pro-devolution politics is over – and hopes to build relationships with other independence movements around the world to increase the momentum.
"Movements towards independence are cycles," he says. "It's very normal that cycles end and start until it is achieved. The question of independence in Quebec right now is rising and we are preparing ourselves for a new cycle."
The Quebec National Assembly unanimously voted for two motions promoting Scotland's right to hold referendums.
One confirmed the fundamental right of the Scottish people to "self determination", while a second, held in the wake of the UK Government's decision that Scotland's independence referendum should not be repeated – said Scotland should be able to hold a referendum whenever its government deemed appropriate.
"We sent it to the British parliament," he says. "All federalist parties voted in favour. Their reasoning is that even among federalist parties who really oppose Quebec's independence, there is an acceptance that consulting with your people on fundamental issues is an inalienable right and those principles should be upheld in any circumstance.
"Our role is not to intervene or try to comment, but our acts of parliament show a genuine care for that topic within the Quebec population. We sincerely hope Scotland will obtain its destiny and obtain justice, no matter what the Supreme Court of England might say."