Prince Harry, Duke of Sussex, loses High Court legal challenge against Home Office to pay for security while in UK
Harry had been seeking to privately pay for his security arrangements while in the UK
Harry asked for permission to bring a High Court challenge over a decision that he should not be allowed to pay privately for his protective security.
At a hearing earlier this month, a judge was asked by Harry's legal team to allow the duke to proceed with a claim over decisions taken by the Home Office and the Executive Committee for the Protection of Royalty and Public Figures (Ravec) – which falls under the remit of the department – in December 2021 and February 2022.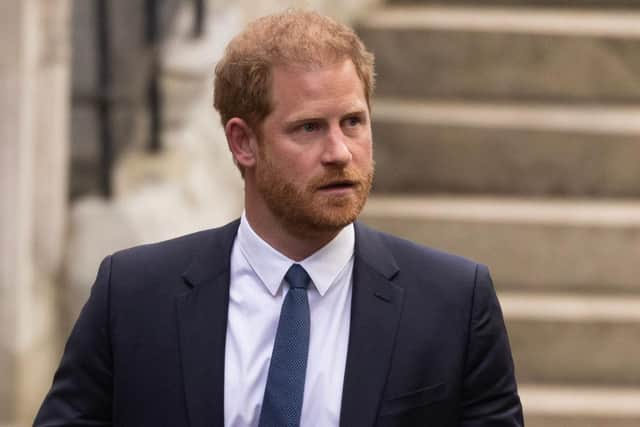 The Home Office, opposing Harry's claim, said Ravec considered it was "not appropriate" for wealthy people to "buy" protective security, which might include armed officers, when it had decided that "the public interest does not warrant" someone receiving such protection on a publicly-funded basis.
Lawyers for the Met Police, an interested party in the case, said Ravec had been "reasonable" in finding "it is wrong for a policing body to place officers in harm's way upon payment of a fee by a private individual".
In a ruling on Tuesday, Mr Justice Chamberlain refused Harry permission to bring the second challenge, rejecting on a number of grounds.
The duke's legal team argued Ravec's view, that allowing payment for protective security would be contrary to the public interest and undermine public confidence in the Met Police, could not be reconciled with rules which expressly permit charging for certain police services.
However, in his ruling, Mr Justice Chamberlain said: "In my judgment, the short answer to this point is that Ravec did not say that it would be contrary to the public interest to allow wealthy individuals to pay for any police services.
"It can be taken to have understood that s. 25(1) (of the Police Act 1996), to which it referred, expressly envisages payment for some such services.
"Its reasoning was narrowly confined to the protective security services that fall within its remit.
"Those services are different in kind from the police services provided at, for example, sporting or entertainment events, because they involve the deployment of highly trained specialist officers, of whom there are a limited number, and who are required to put themselves in harm's way to protect their principals.
"Ravec's reasoning was that there are policy reasons why those services should not be made available for payment, even though others are.
"I can detect nothing that is arguably irrational in that reasoning."
The court was told at the earlier hearing that Harry's latest legal challenge was related to an earlier claim he brought against the Home Office after he was told he would no longer be given the "same degree" of personal protective security when visiting the UK.
A full hearing in that challenge, which also focuses on Ravec's decision-making and for which Harry was given the go-ahead last summer, is yet to be held.
Tuesday's ruling comes amid an ongoing High Court trial involving the duke, in which he is bringing a contested claim against Mirror Group Newspapers (MGN) over allegations of unlawful information gathering.
Harry is also waiting for rulings over whether similar cases against publishers Associated Newspapers Limited (ANL) and News Group Newspapers (NGN) can go ahead.
A judgment is also expected in the duke's libel claim against ANL – publisher of the Daily Mail and Mail on Sunday – over an article on his case against the Home Office.
Comments
 0 comments
Want to join the conversation? Please or to comment on this article.