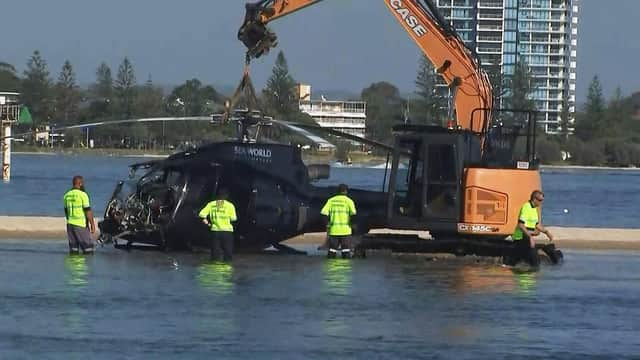 Diane and Ron Hughes died in the incident which happened at around 2pm local time – 4am GMT – on Monday in Main Beach.
Queensland Police said the pilot and three passengers died at the scene, including a pair travelling from the UK – a 57-year-old woman and a 65-year-old man – and a 36-year-old woman from Glenmore Park, New South Wales.
Mrs Hughes' brother Dave Boyce wrote on Facebook: "For those who don't know my sister and her husband were involved in the helicopter crash on the Gold Coast yesterday.
"We would also like to thank you all for the love and support we have received. We are truly humbled at this heartbreaking time."
The force said "initial investigations" indicate the collision occurred when one helicopter was taking off and the other was landing.
One of the helicopters was able to safely land on the sandbank, with five of its six passengers suffering only minor injuries.
However, the other helicopter crashed, killing four of those inside, and leaving a further three critically injured.
A 10-year-old boy from Glenmore Park suffered critical injuries in the incident while a 33-year-old woman and a nine-year-old boy, both travelling from Geelong West, Victoria, suffered serious injuries.
The forensic crash unit is investigating the incident with help from the Australian Transport Safety Bureau.
A spokesperson for the Foreign, Commonwealth and Development Office said: "We are supporting the family of two British nationals who died in Australia and are in contact with the local authorities."
Australia's Prime Minister, Anthony Albanese, said his thoughts were with those affected by the incident.
"Australia is shocked by the news of the terrible and tragic helicopter incident today on the Gold Coast," he said in a tweet.
"My thoughts are with all those affected, including first responders, and my deepest sympathies are with those who are grieving."
Queensland premier Annastacia Palaszczuk tweeted it was an "unthinkable tragedy".
She said: "My deepest sympathies are with each of the families and everyone affected by this terrible accident."