Rishi Sunak will lead the nation in a minute's silence to mark a year of Russian President Vladimir Putin's all-out assault on his neighbour.
Here's everything you need to know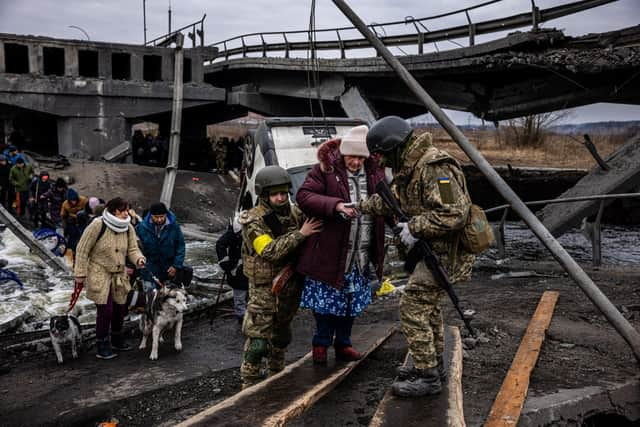 When did Russia invade Ukraine?
Russia invaded Ukraine in a major escalation of the conflict on February 24 2022.
Russia declared that the invasion was a "special military operation" with Vladimir Putin starting the war by claiming that he was protecting and "demilitarising and de-Nazifying" Ukraine.
An indication of the conflict first began in December 2021 when Russian troops amassed at its western border with Ukraine.
National minute's silence for Ukraine: Date and time
A national minute's silence will take place at 11am on Friday 24 February to mark the one-year anniversary of the full-scale Russian invasion of Ukraine.
Ukraine conflict: What has been said about the national minute's silence?
Rishi Sunak is expected to lead the tribute to the "bravery and resilience" of the Ukrainian people which will be held at 11am on Friday February 24.
In a statement, the Prime Minister said: "Russia's unjustifiable attack brought war and destruction to our continent once again, and it has forced millions from their homes and devastated families across Ukraine and Russia.
"I am incredibly proud of the UK's response, and throughout this past year, the UK public have shown their true generosity of spirit and their enduring belief in freedom."
Culture Secretary Lucy Frazer added: "One year on from Putin's illegal invasion, we stand in solidarity with our friends in Ukraine and remember all those who have lost their lives in the pursuit of freedom.
"This moment of silence is a time to reflect on the human cost of this conflict and show we stand with Ukraine."
Events in Scotland: One year on from Ukraine conflict
The Ukraine Forever programme was announced on Monday at Edinburgh Castle by Lord Provost Robert Aldridge and will see a host of events to mark the conflict.
Edinburgh's first event, a commemorative gala concert in support of Ukraine, will be held at St Cuthbert's Parish Church, Lothian Road, on February 18.
And as part of the Ukraine Forever programme in Edinburgh, there will be a range of events including a fundraiser for a paramedic charity at the Scottish Storytelling Centre on February 23, and a night of music with Scottish and Ukrainian artists at the Usher Hall on February 28.
On February 23, there will be a special debate at the Scottish Parliament, with politicians from across the spectrum set to take part.
And, two days later, there will be a march in support of Ukraine, which will head from Edinburgh Castle to the Scottish Parliament.
Thousands of Ukrainian refuges have made Scotland home since the invasion, with more than 22,000 people from the war-torn country arriving north of the border through private sponsors or super-sponsor scheme.