At the meeting, the pair announced a "friendship without limits". There were, they insisted, no "forbidden areas" of co-operation.
The visit, Beijing has said, will increase the "mutual trust and understanding" between the two countries and "establish a new paradigm for international relations", according to a foreign ministry spokesman. However, it also insists it will focus on peace.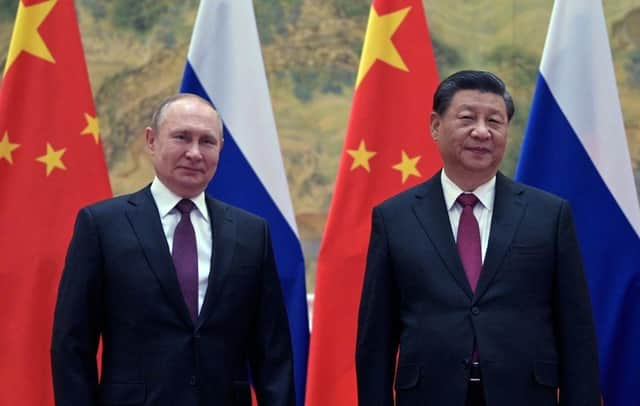 China's "limitless" friendship with Russia has been put to the test over the past year. Indeed, China's neutral stance over the invasion has undoubtedly been a kick in the teeth for Mr Putin, who would undoubtedly been hoping for more co-operation from one of his closest allies.
The state visit also comes just days after the International Criminal Court (ICC) issued an arrest warrant for Mr Putin, over war crimes committed during the war against Ukraine. The ICC's claims focus on the unlawful deportation of children from Ukraine to Russia, in which it said it had evidence Mr Putin was directly involved.
Moscow has, of course, denied the claims. However, China may feel it wants to tread carefully at a time of significant moral questioning over Russia's actions during the conflict.
Even announcing Mr Xi's visit, the tone from Beijing has been conciliatory, with spokespeople briefing the media that China hopes to play a "mediating role" between Russia and Ukraine.
Indeed, rumours have abounded in the US press that Mr Xi is to speak to Ukrainian president Volodymyr Zelensky immediately after the visit, although this has not been confirmed.
"President Xi Jinping's visit to Russia this time is also for peace," Mr. Wang said, when asked whether Mr Xi would encourage Mr Putin to come to an agreement with Ukraine. "China's proposition can be summed up in one sentence, which is to persuade peace and promote talks."